What Things To Do in Surabaya?  Surabaya city is the 2nd largest city in Indonesia (after Jakarta) and is located in East Java province on the island of Java. It is the capital of East Java province with a population of more than three million and a further seven million in the surrounding rural area.
The diverse population is principally Javanese and Madurese with significant minorities of Balinese, Sunda, Batak, Minangkabau, Banjar, and Bugis peoples as well as many foreigners. The city is situated on the northern shore of eastern Java at the head of the River Mas and along the side of the Madura Strait.
Based on history, the city was founded in 1293 when Raden Widjaja established Majapahit, Indonesia's most glorious empire. Surabaya has grown into an elegant city of large, colonnaded buildings bordering broad, tree-shaded avenues, it serves as the commercial center of a thriving industrial and agricultural hinterland. Surabaya offers many good hotels, shopping centers and plentiful sources of entertainment tourist destinations, and many things to do in Surabaya.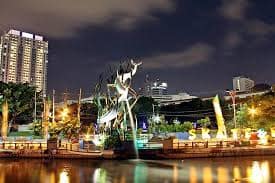 Think to do in Surabaya Worth Visiting
Most visitors travel to Surabaya for sightseeing, business, shopping, or just a stopover to get to Yogyakarta, Bali, or Sulawesi, etc. Surabaya has destination attractions and modern shopping centers that fit in with everything in Southeast Asia and the characteristics of bustling Asian cities.
Today it is one of the largest cities in the Southeast Asian region and is the main commercial center. As a tropical region, The best time to visit Surabaya city has a dry season from May through to September because of a wet season from November through April throughout the year with Surabaya temperatures ranging from 26°C to 31°C.
Surabaya Shopping (What to buy in Surabaya)
Surabaya has some of the largest shopping malls in South East Asia as well as factory outlets and distros. Surabaya hosts some of the largest and most modern shopping malls in Indonesia incorporating hundreds of retail operations ranging from local to international retailers and service providers. Tunjungan Plaza, at the heart of the center of the city and part of the Tunjungan City superblock development, is perhaps the most popular in visitor numbers but other malls such as Galaxy Mall, on the east side of the city, Surabaya Plaza and Surabaya Town Square are all equally modern malls with their own attractions. In Surabaya must buy local special handicrafts such as batik, that can be found at outlets malls or plaza traditional markets.
The best day trips from Surabaya
Surabaya Zoo (Kebun Binatang)
Reviews of the conditions of the animals at this zoo and the environments in which they somehow survive make for some hard reading. Located 3 km south of the city centre. One of the largest and best in South-East Asia. You also can see the Suroboyo monument near the zoo entrance.
Mount Bromo
Located some 3-4 hours drive from Surabaya. Mount Bromo is an active volcano which forms part of the Bromo Tengger Semeru National Park covering 800 square kilometres. At 2,329 meters it is by no means the highest peak but it is the most famous.
Bromo Tour from Surabaya for 1 day 1 night :
Gereja Kelahiran Santa Perawan Maria.
The oldest church in Surabaya. Beautiful glass panels and serene surroundings.
Grahadi.
The colonial-era residence of the Governor of East Java. You can watch Reog dance, a vigorous traditional dance at the nearby 'Balai Pemuda' (Youth Hall- one historical building in Surabaya) every Sunday at 8.30AM.
G-Walk located in west Surabaya (CitraLand).
There are many food stalls and bazaars at night where you can find a lot of good food. It gets very crowded at night and it's a place for a lot of young people to hang out. A new food market just opened in 2011 and close to G-Walk you'll also find some bars. G-Walk is located between Pakuwon Super Mall and Ciputra Golf.
House of Sampoerna
Situated in Surabaya city center' this stately Dutch colonial-style compound was built in 1862 and is now a preserved historical site. Cited as the top tourist destination in Surabaya, the complex offers a museum, an art gallery, a cafe as well as souvenir shops. It also provides a Surabaya City Sightseeing bus for free with a tour guide speaking English. Check out the timing for the museum's main attraction: hundreds of girls hand-rolling Indonesia's most prestigious cigarette, Dji Sam Soe, using traditional equipment. They do it at an unbelievable speed.
Loop
located in west Surabaya (Graha Family). There are many food stalls and bazaars at night where you can find a lot of good food. It gets very crowded at night and it's a place for a lot of young people to hang out.
Masjid Al Akbar Surabaya
A huge mosque (some say it's the biggest mosque in SE Asia). The mosque has a tower which is equipped with an elevator, so that visitors can see Surabaya from top of the tower, 65 m (195 ft) above ground level.
Masjid Cheng Ho,
A mosque with beautiful Chinese architecture. It is about 10 min walk from Surabaya City Hall, or 5 min by "becak".
Monumen Jalasveva Jayamahe
A monument on Surabaya's seafront dedicated to the service of The Indonesian Navy.
Monumen Kapal Selam KRI Pasopati (410),
A Soviet-built submarine display which proudly served in Indonesian Navy since 1962. Launched in 1952 and since her decommisioning in 1990, now preserved as a monument. The body/hull was slightly cut for stairs & door for easier public entrance & viewing. Right beside the monument, there is a building where a short movie about the history of the submarine itself can be viewed. It is located beside the river next to Delta Plaza. You also can see the Suroboyo monument near the river.
Pasar Ampel
A large Arab market selling carpets and all sorts of other goodies. At the end of the main narrow lane is the mosque and grave of one of the nine Muslim saints of Java, Sunan Ampel.
The Suramadu Bridge (Jembatan Suramadu),
also known as the Surabaya-Madura Bridge, is a bridge with cable-stayed which connects Surabaya on the island of Java and the town of Bangkalan on the island of Madura. The bridge is open for public since June 10, 2009.
Heroes of Museum
A monument dedicated to the fallen heroes of Surabaya during the Independence war of 1945-49. It is located right in front of the Governor's official building.
Ciputra Waterpark
Swim and have fun with water in Ciputra Waterpark, a great place for swimming. It has a wave pool, slides, and more. The waterpark is open until 8 pm. Ciputra Waterpark Those who are travelling with children will want to pay a visit to Ciputra Waterpark, which is the largest water park in the whole of Indonesia. This is a great place to swim and mess about in the water on a hot and humid day.
Balai Pemuda local arts
Enjoy an art center in the heart of Surabaya, . You can watch the Reog Dance and other art performance. The big event is Festival Seni Surabaya (FSS), held every year on June. During the Dutch Colonial era, this building was a club called Simpangsche Societeit.
Get around the Old Town area (Around Kembang Jepun to the port) and enjoy the view of nice colonial buildings.
How to get Surabaya
See options for getting Surabaya by bus
The main bus terminal Surabaya is Purabaya bus terminal at Bungurasih, some 10 km south of the Surabaya city. From there, buses depart from and arrive at minor and major parts of east Java and major cities throughout Java. There are shuttle buses to local destinations and economy and air-conditioned buses to other destinations. Bali (Denpasar) to Surabaya the journey time 10 – 12 hours. including the ferry between Banyuwangi and Gilimanuk. Jakarta to Surabaya with a journey time of 13 – 14 hours but so much & will depend on the traffic so your journey could extend by another 5 hours if conditions are bad. The train or plane is a better option.
See options for getting Surabaya by mini bus, van
there are now an increasing number of companies running door-to-door or office-to-office minibus services from and to major cities in Java.
See options for getting Surabaya by Train
The city has has two main stations, Surabaya Pasar Turi and Surabaya Gubeng. Availables classes: Executive (EKS) Business (BIS) and Ecomony (EKO).Seats in EKS and BIS for intercity journeys can be reserved in advance.
Pasar Turi station To and from Jakarta Gambir via Semarang
Pasar Turi Station If you take a train from Jakarta's Gambir Station note that trains using the northern main line will take at least 10 hours to arrive at Pasar Turi.
Trains using the southern main line from Gambir will take at least 15 hours to reach Pasar Turi.
The Argo Bromo Anggrek, Sembrani and Gumarang trains use the northern line, while the Bima uses the southern line.
Gubeng Station To and from Bandung, Yogyakarta, Solo and Bali
The Argo Wilis travels to Bandung during the day.
The Sancaka travels to Yogyakarta via Solo twice a day – journey time about 6 hours.
The Mutiara express runs to Banyuwangi twice a day for connection with the ferry to Bali.
See some options for getting Surabaya by Air
Surabaya Juanda airport serves both domestic and international flights.
Travel to and from Surabaya by domestic flight is available from many cities in Indonesia including Jakarta, Bandung, Denpasar (Bali), Yogyakarta and Medan dll.
Travel to and from Surabaya by international flight schedule includes Australia, China, Hong Kong, Japan, Macau, Malaysia, Singapore, South Korea, Taiwan and Thailand etc.
See some options for getting Surabaya by Boat
Tanjung Perak is the name of the port in Surabaya.
PT Angkutan Sungai Danau dan Penyeberangan (ASDP) has a daily ferry from Ujung Kamal, Madura to Tanjung Perak.
PT Pelayaran Nasional Indonesia (PELNI) has passenger ship schedules from major ports in Indonesia to Tanjung Perak. see the Pelni website for schedules http://www.pelni.co.id/
There are popular Pelni connections to Sulawesi (Makassar) and Kalimantan (Pontianak).
Surabaya Travel Agent
You need the best travel services around Surabaya for sightseeing, shopping, or just a shuttle service from the International Airport, train station, hotel, etc. Please contact us surabayabromotour.com who is ready to help you what to do in Surabaya.
Related Post : Surabaya Tour 3 Days 2 Nights
Where to stay in Surabaya
Where to stay in Surabaya for every budget, we will show you how to enjoy the city according to your means. As well as 4 and 5-star hotels there are also many guest houses and mid-range hotels to suit everyone. Excellent value in quality and comfort is easy to find. Check this out to rent: hotels, guesthouses, and apartments.
Surabaya Hotels
There are hundreds of Surabaya hotels for every budget from no stars to 5 star. Here is a selection for when you travel to Surabaya.
Budget Hotels in Surabaya

Hotel Tanjung Emas Jl. Flores 27-29 Tel: 031 502 7820
A great option for a budget stays if when you travel to Surabaya on a budget. A 10-minute drive from Gubeng Station.
Henny Executive Homestay Jl. Dukuh Kupang 29 69/71 Tel: 031 567571
Bali Hotel Jl Makam Peneleh 77 Tel: 031 545 0155
AC and non-AC rooms, karaoke, and Pub. Restaurant with Balinese flavor.
Mid-range Hotels in Surabaya
Hotel Fortuna Jl. Darmo Kali 25-27 Tel: 031 563 1111
Situated in the central business district just 20 mins from Juanda International Airpot.
All Rooms have air conditioning with minibar, telephone, and TV.
Ibis Surabaya Rajawali Jl. Rajawali No 9-11 Tel: 031 353 9994
Near Heroic Monument. Restaurant, bar and health club with spa.
Country Heritage Resort Hotel Jl. Nginden Intan Utara 7 Tel: 031 594 9494
15 minutes from Juanda International Airport. Swimming pool, cafe, tennis court, fitness center.
Satelit Hotel Jl. Mayjen, Sungkono 139, Mayjen Sungkono
Popular with business and leisure travelers, the hotel is situated in Mayjen Sungkono
All rooms have mini bar, TV and air conditioning.
Top end Hotels in Surabaya

Oval Hotel Jl. Diponegoro 23 Tel: 031561 9998
Standard, Deluxe and Suite Rooms. Ballroom, Bar, Restaurant, Spa.
Surabaya Plaza Hotel Boulevard, Jalan Pemuda 31-37 Tel: 031 531 6833
Situated in the city center amid the shopping centers and entertainment facilities. Just 45 mins from the international airport.
Sheraton Surabaya Hotel & Towers Jalan Embong Malang 25-31 Tel: 031 546 8000
Novotel Surabaya Jl. Ngagel 173-175 Tel: 031 501 8900
Shangri-La Hotel JL. May. Jend. Sungkono 120 Tel: 031 566 1550
J.W. Marriott Hotel Surabaya JL Embong Malang 85-89 Tel: 031 545 8888
Hotel Sahid Surabaya Jl. Sumatra No. 1-15 Tel: 031 503 2711
Sahid Hotel Surabaya is situated in central Surabaya, close to the Submarine Monument and the World Trade Centre.
Hotel Features.
2 restaurants, bar/lounge, business center, outdoor swimming pool, coffee shop, and nightclub,
Complimentary breakfast, Wi-fi in public areas. Wedding services and tour/ticket assistance are available. Self-parking is complimentary. Additional property amenities include a coffee shop/café, a nightclub, and currency exchange.
Hotel Majapahit Jalan Tunjungan 65
The hotel was built in 1910 and offers an oasis of peace and tranquility in the midst of snarling traffic. Colonial style rooms, outdoor pool, spa and all the other accessories that you would expect from a 5-star hotel.
Surabaya Guest Houses
There are a huge number of Surabaya guest houses available for the visitor. Its impossible to list them all so here is a selection and we'll continue to update.
Family Guest House Gubeng Kertajaya 8 c No. 15
Modern family-run guest house in Surabaya center serving free all-day coffee and tea to guests. Aircon, some smoking rooms. Cable TV and Wi-fi.
Riyadi Guest House Jl. Panjang Jiwo Permai III/7 Tel: 031 842 0704/ 847 2290
Mahatma Guest House Jl.Kali Kepiting No.117B-5A Tel : 031 3895 971/6054 7854
Daily and monthly renta rates. Also have small house for rent. Price at Jan 2012 Rp 130,000 per night for 2 persons.
Guesthouse Bougenville Jl. Teknik Arsitektur Blok H 8 – 12, Perumdos Kampus ITS, Keputih- Sukolilo Tel: 031-591 5974/596 1215
Rooms are air conditioned with TV and fridge.
Quiet and comfortable atmosphere. Price at Jan 2012 Rp 125,000 to Rp 140,000 per night.
Guesthouse Yasmine Jl. Teknik Sipil Blok I-19, Perumdos Kampus ITS, Keputih-Sukolilo Tel: 031- 5938815/5961215
Wisma Dewi Sri Jl. A. Yani 146-148 Tel: 031 828 6089
Wisma Praja Mukti Gayung Kebonsari No. 53-55 Tel: 031 828 6178
Surabaya Apartments
Renting an apartment gives more privacy than you will find in a hotel and, if you plan to stay a few days in Surabaya, you may find it cheaper too. Increasingly hotels are offering serviced apartments within their complexes.
Puri Darmo Apartments Jl. Raya Kupang Baru no 17A Tel: 031 732 6066
One, two and three-bedroom serviced apartments situated in the town of Darmo. Long and short term rental.
Somerset Surabaya Serviced Apartments Jl. Raya Kupang Indah Tel: 031 732 8738
One, two and three-bedroom designs. Part of the hotel complex
Siwalankerto Apartment Jl. Siwalankerto 35 Tel: 031 8474011
This apartment block has unfurnished apartments for rent.
The Square Apartment & Arcade Jl Siwalankerto 146-148
The Square is a new exclusive hotel with the concept of 'one stop living' in a comfortable and quiet environment. 2 room types – Deluxe single and Deluxe double.
Highpoint Serviced Apartment Jl. Siwalankerto No.185 Tel: 031 5193 6625, 5193 6624, 5193 665
Situated near Juanda International airport, this apartment block offers 3 room styles Superior King, Superior Twin and Deluxe.
Graha Residen Apartment Surabaya Jl. Darmo Harapan 1 Tel: 031 732 9945
Sejahtera Apartment Jl. Manunggal Kebonsari No. 27 Tel: 031 828 7849 just 9 km from the Airport
Java Paragon Serviced Apartments Surabaya Jl. Mayjend Sungkono 101-103 Tel: 031 562 1234
Puri Matahari Residence Jl. H.R Mohammad 181 Tel: 031) 732 6500