Yogyakarta Tour (Borobudur Prambanan) – Bromo Ijen Bali 5Days 4Nights. Planning a trip from Yogya to Bali with visiting Mount Bromo and Ijen Crater Blue Fire on the way.
In trip Yogyakarta Tour Bromo Ijen Bali Drop Off just need a time for a 5 days 4 nights tour your could visit City Tour Yogyakarta – Prambanan Temple – Borobudur Temple – Mount Bromo – Ijen Crater – Ketapang Ferry Port or Bali Drop Off.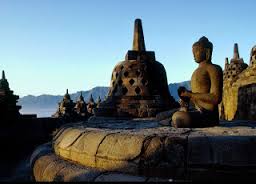 Schedule planning trip to Java with tour operator Yogya – Bromo – Ijen Bali to see dan visiting yogyakarta,Borobudur,Prambanan temple and to do the common tour ended to Bali via Bromo and Ijen.
ITINERARY YOGYAKARTA – BROMO – IJEN DROP OFF KETAPANG/BALI 5 DAYS 4 NIGHTS
DAY 01 ARRIVAL YOGYAKARTA – BOROBUDUR TOUR
On arrival in Yogya we will picking up and direct Borobudur tour include Mendut and Pawon temple.Check in hotel and free program.
DAY 02 YOGYAKARTA CITY TOUR – PRAMBANAN
After breakfast at hotel proceed journey in Yogya City Tour visiting Kraton (Sultan's Palace), Bird Market, Water Castle, Sonobudoyo Museum, Batik Home Industry and Silversmith at Kotagede with its processing and beautiful collections. Then, drive to Solo for visit Prambanan Temple.After finish back to hotel and free program
DAY 03 SOLO or Yogyakarta – BROMO HOTEL
After Breakfast at hotel. Solo City Tour visiting Mangkunegaran Palace, Triwindhu Antique Market and Radya Pustaka Museum. Then continued to visit Trowulan Museum and Bajangratu temple then on the way to Bromo hotel. Check in hotel bromo and free program
DAY 04 BROMO TOUR SUNRISE – BROMO CRATER – IJEN HOTEL
Morning at 03.00 AM wake up and start your journey at 04.00 AM to enjoy the beauty of nature and the splendid sunrise at Mt. Penanjakan. Afterfinish enjoying sunrise then proceed to Mt. Bromo crater through the shimmering sea of sand . Back to hotel, having breakfast & taking a bath in hotel, And transferred to hotel ijen.Check in dan free program
Day 05 IJEN BLUE FIRE – BALI/KETAPANG FERRY PORT
Around in the midnight (12 AM), Our driver will bring us to the paltuding post and then continue trekking to the slope of Mount Ijen, passing through plantations and rainforest. This is one of the few remaining on the Island of Java with giant ferns, plants & big trees, this journey takes approximately 1 hour from the hotel in Banyuwangi or 45 minutes from hotel in sempol Bondowoso by private car. Arrive at the parking area (Paltuding Post) of Mount Ijen, approximately 1 hour until 1.5 hours will be required to ascend slope of mount Ijen to reach peak of Ijen Crater and along the path, you will enjoy the stunning natural scenery with fresh air & shady. And enjoy best panorama of the ijen blue fire dan lake of sulphate and the sulfur mining workers go down into the crater and climb back up by passing dangerous path on the edge of Ijen Crater with the load as much as 80 kilograms on their shoulders. This is really a dangerous hard job.
After enjoyed the natural scenery at Crater of Ijen and then descend the slope of Mount Ijen until vehicles parking area where our vehicle is waiting for transfer out to ketapang ferry port or bali.The adventure ended.
Recent Post About Bromo Tour Package :
Price Yogyakarta Tour (Borobudur Prambanan) – Bromo Ijen Bali 5 Days 4 Nights, please contact us
Price Inclusions:
Private air conditioned transport during tours and transfers.
4 nights accommodation in Yogya,Bromo,Ijen
Entrance ticket and all admission fees.
English speaking tour driver or guide.
Mineral water during tour.
Jeep 4WD in Bromo
Price Exclusions :
Travel Insurance,
Meals during on the trip (L,D)
Personal expenses.
Any other item not specified in inclusions.
Yogyakarta Tour (Borobudur Prambanan) – Bromo Ijen Bali 5 Days 4 Nights
Trip in Java started from yogyakarta (airport or train station or hotel) and then city tour yogya,visit prambanan temple,borobudur tour and proceed visiting mount bromo ijen tour with finishing tour in ketapang ferry port banyuwangi or bali island with a time trip Yogyakarta Tour Bromo Ijen Bali 5 Days 4 Night.