Mount Semeru Trekking Tour Package. Travel package to climbing to the top of Mount Semeru for 3 days 2 nights. 3D2N trips for Trekking to Mount Semeru summit is the chance to hike the tallest volcano on Java Island. The Highest Semeru Mountain On the island of Java Indonesia, or many of the so-called Mahameru peaks 3,676M and the top of the mountain Saloko Jogring is still an active volcano and the highest mountain on the island of Java.Completed with visit and camping to scenic kumbolo lake.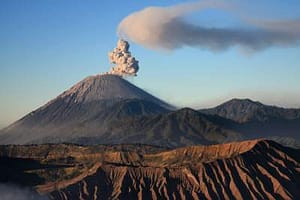 Mount Semeru Trekking Tour Package 3 Days 2 Nights
Mount Semeru Trekking Tour Package 3 Days 2 Nights is a Tour Package for Climbing / Trekking to Semeru Mahameru Mountain from Surabaya or you can also trace it route to Mount Semeru from Malang with the duration of Semeru Trekking Tour Package 3 Days 2 Nights. Tour schedule as follows:
3D2N Climbing To Semeru Volcano Tour Itinerary
Day 1: Malang / Surabaya – Ranu Pane – Ranu Kumbolo – KALIMATI Base Camp
Climbing to the summit of Mount Semeru from Surabaya or track and routes from Malang. Pick-up in Surabaya / Malang in the morning and then drive to Tumpang (Semeru Via Malang) or drive to Cemara Lawang (Semeru via Surabaya). Arrival in Tumpang or Cemara Lawang then proceed to the village Ranupane by jeep 4WD. After arriving in the village Ranupane a check of preparation, logistics and administering licensing climbing. After all the preparation is complete and permits already fixed, then start a light trekking towards Ranu Kumbolo around 4-5 hours, breaks and lunch at ranu Kumbolo. After the break continued trekking to wards kalimati base camp. After arriving in kalimati base camp set up tents, dinner and stay overnight.
Day 2: Kalimati – Arcopodo – Semeru Summit – Ranu Kumbolo
Wake up at 12 am and preparation for the ascent to the summit Mahameru. start climbing towards Arcopodo approximately 2 hours, and proceed to the summit Mahameru (3,676 masl) duration of three hours of hard trekking. After arriving at the summit to enjoy the beauty and exploration peak Semeru / Mahameru highest mountain in java. Satisfied at peak then back to Kalimati base camp approximately 2 hours. Rest and breakfast, then continue to Ranu Kumbolo about 3 hours,camping at Ranu Kumbolo. free program.
Day 3: Ranu Kumbolo – Ranu Pane – Malang / Surabaya
Morning enjoying the beauty of the sunrise at Ranu Kumbolo. After breakfast explorations Ranu Kumbolo and further preparation back to the village Ranu Pane approximately 4-5 hours. After arriving at Ranu Pane transfer back to Malang / Surabaya. Arrival at your location in Surabaya / Malang ,Semeru Trekking Tour Package ended.
Related Post :
Mount Semeru Trekking Tour Package Price
Please " Contact Us "
Tour Package Price included :
All Permits and donations
Private Tour Car Transfer In/Out with AC (air conditioned) + Fuel
Jeep 4WD for Mount Semeru
English speaking tour guide
Porter and Camping gear (tent & kitchen equipment) for Mt. Semeru Climbing
2x Breakfast,3x Lunch and 2x Dinner
Tour Package Excluded :
Travel insurance
Personal expenses
WHAT TO BRING
–  Comfortable trekking shoes
–  Sleeping Bag
–  Windbreaker / jacket, sweater, gloves, ear cover
–  Flesh light
–  Sun block lotion
–  Insect repellent
–  Cameras / video camera, binocular
–  Personal toiletries
–  Personal medicines
–  Rain coat
–  Sun Block.
–  Personal medicine.
–  Sun glasses.
–  Camera / video (keep it safe from water)
Camping spots before reaching the top of Semeru
There are four camping areas. First, at Ranukumbolo, a beautiful lake, where you can find the last water resources on the route.
Second, at Kalimati, which is situated at the borderline between a savannah plain and the steep ascent through mountain forest ,up the actual volcano. There is a spring at a distance away from Kalimati.
Third and fourth, at Arcopodo and Killik further up in the forest, where you will find several flat areas.
The Best Time To Climb at Semeru Mountain
April – November (but people also climb it in December)
Terms of climbing semeru
– climbing permits (only available online registration)
– medical certificate