Climbing To Mount Bromo Semeru Summit 4 Days 3 Nights hike or trekking adventure the famous East Java active volcano of the Mount Bromo Semeru Tengger National Park. Bromo crater and Semeru Mahameru entering the area of Bromo Tengger Semeru National Park. Mount Semeru Mahameru is the highest mountain in Java Island. Mount Bromo and Semeru is a popular volcanoes for climb and camping. If you want to enjoying trekking this volcano you could start tour to bromo and semeru trekking from Surabaya,Malang (Airport or Train Station) in the morning.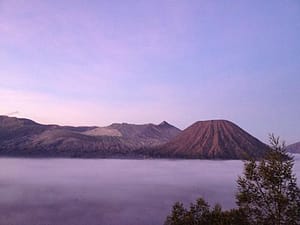 4D3N Climb to Mount Bromo Semeru Summit
The best time to climb Mt.Bromo and Semeru in May until December. In addition that time ,track climbing to semeru mountain is closed from visitors because restoration ecosystem process.
Description : Bromo Semeru Tour 4 Days 3 Nights
Day 1: Malang / Surabaya – Post Ranu Pane – Ranu Kumbolo – KALIMATI Base Camp
Climbing the peak of Mount Bromo Semeru Trekking Tour From Surabaya or Paths and Routes From Malang. Pick-up at Surabaya / Malang in the morning and then proceed to the Ranupane village . Arriving in the Ranupane village perform a check of preparation, logistics and checks administering or licensing before climbing and mountain trekking semeru Mahameru. After all the preparation is complete and permits already neglected, then start a light trekking towards Ranu Kumbolo approximately 4-5 hours, breaks and lunch at ranu Kumbolo. After the break continued trekking to Kalimati base camp around 3 hours hiking via Bukit Cinta (Love Hill) and Cemoro Kandang. After arriving in KALIMATI Base Camp, set up tents, dinner and Overnight.
Day 2: KALIMATI Basecamp – Arcopodo – Puncak Semeru Mahameru
Wake up at 12 am and preparation for the ascent to the summit of Sumeru Mahameru. Start climbing towards Arcopodo approximately 2 hours, and proceed to the summit Mahameru (3,676 masl) duration of three hours of hard trekking. After arriving at the summit enjoying the beauty of sunrise semeru and explore the peak Semeru / Mahameru the highest mountain in java island. Satisfied at peak fell back to KALIMATI approximately 2 hours. Rest and breakfast, then continue trekking down to Ranu Kumbolo about 3 hours, to camping back at Ranu Kumbolo. And free time.
Day 3 : Ranu Kumbolo – Ranu Pane – Hotel Near Bromo
Morning enjoying the beauty of the sunrise at Ranu Kumbolo. After breakfast explorisasi Kumbolo Ranu region and further preparation back to the Ranu Pane village approximately 4-5 hours trip. After arriving at Ranu Pane breaks and lunch. Continues direct toward the hotel near bromo with jeep 4wd .Sampai at hotel check-in and rest.
Day 4 : Bromo Sunrise Tour   –  Bromo Crater – Surabaya / Malang
Bromo Tour Package  began at 4 am, jeep will pick up from hotel and directly to the pananjakan hill to see the beauty sunrise and view lanscape mountain bromo and semeru peak .After finish then visited the crater bromo.Back to hotel,breakfast,loading your bag and transfer out to surabaya or malang. Package Climbing Mount Bromo Semeru Summit 4 Days 3 Night ended.
Related Post :
Mount Bromo Semeru Trekking Tour Price 4 Days
Please contact us for more information about Surabaya Bromo Semeru Trekking Tour Price 4 Days 3 Nights
Climbing Tour included :
All Permits and donations
Private Tour Car Transfer In/Out with AC (air conditioned) + Fuel
Hotel Accommodations In Bromo 1 Night + Breakfast
Jeep 4WD for Mount Semeru And Mount Bromo
English speaking tour guide
Porter and Camping gear (tent & kitchen equipment) for Mt. Semeru Climbing
2x Breakfast,3x Lunch and 2x Dinner In Semeru
Tour Excluded :
Travel insurance
Hoese In Bromo
Lunch and Dinner In Bromo
Personal expenses