Surabaya Ijen Crater Sukamade Kalibaru Bromo Sunrise 5 Days 4 Nights
Mount Ijen Sukamade Kalibaru Bromo 5 Days 4 Nights is a long tour in East Java Indonesia. A highly recommended tourist spot for vacation time in East Java, which can be started from Bali or Surabaya.
SURABAYABROMOTOUR arranges a trip to see the Blue Fire of Ijen Crater, Mount Ijen, Sukamade (Turtle Beach), Kalibaru Plantation and Bromo Sunrise Tour for about 5 days 4 nights.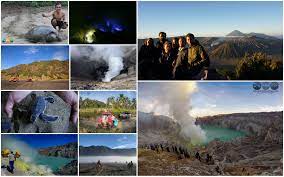 About Tour Ijen Sukamade Kalibaru Bromo 5D4N
Mount ijen is the valcano in Banyuwangi regency east java. Tourism to view the big lake crater of mount ijen and blue fire. The phenomenon has occurred for a long time, but ago there was no climb at midnight before National Geographic popularize the electric-blue flame of Ijen. To reach the top of mount ijen and view lake creater and blue flame, visitors must climbing two-hour is required to reach the rim of the crater, followed by a 45-minute hike down to the bank of the crater. Free time exploration at mount ijen crater and blue fire.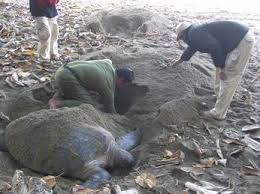 Sukamade Beach is located in Meru Betiri National Park, is a breeding turtles, especially green turtles. At night time we could see the turtle nesting and hatchling release into the ocean in the morning. Sukamade Beach has an area of 50,000 hectares. Betiri Meru name taken from the name of the highest mountain, the mountain (Meru) Betiri. The high mountain is 1,223 meters above sea level. To reach this place through the rubber plantations,coffee brown, and dense rainforest in the shore and cross the river to make several trips suspenseful.
Kalibaru is the location of plantation tours and excursions lorry, a small train. Kalibaru is located at an altitude of about 428 m above sea level and land use mountain many for plantations and forest. Cultivated plants, among others, coffee, cocoa, rubber, tea, and pine. Which is Interesting here there is a statue of a hand holding a cocoa. In morning mist often down so cold air like in countries four seasons .Perkebunan Kalibaru and the cold temperature of the main attraction for foreign tourists.
Mount Bromo is an active volcano in East Java, Indonesia. Becomes attractive because the Mount Bromo shape mesh between valleys and canyons with the caldera or the ocean of sand covering approximately 10 square kilometers. status as the volcano is still active, but can be visited all peoples
Itinerary Ijen Sukamade Kalibaru Bromo Tour Package 5 Days 4 Nights
Day 01. Bali/Surabaya – Ijen Hotel
We pick you up at Surabaya or Ketapang Ferry Port or Bali then drive to the Ijen hotel. You spent the night in a home stay at the Ijen area.
Day 02. Ijen Trekking Tour – Sukamade (Meru Betiri N.Park)
Very early morning (00.00 am), before we depart with to Paltuding. It takes about one hour to reach Paltuding, the 'entrance' to Kawah Ijen. It will take you around an hour to walk three kilometres up hill to the crater. Finally at the top you have a spectacular view at a sea of colours; the turquoise lake, the yellow sulphur and the brownish red crater rim. A lot of sulphur miners carry loads up to 80 kilograms out of the crater up to the rim and then down to the weighing post in Paltuding.
After you inhaled the scenery, there is time to visit the sulphur factory where sulphur is purified and packed. Then we drive via Pesanggaran to the protected Sukamade turtle beach. On your way we drive across the extensive plantations of East Java and the mountain range of the Meru Betiri National Park. The turtle beach is a wild three kilometers strip of sand at the Indian Ocean. Four species of turtles come ashore to lay their eggs at night. But, before the evening falls, you still have time to walk around the local kampong where people make brown sugar. At night a ranger will guide you to see the sea turtles. The sea turtles usually come ashore around at 19.30 and return to the sea at midnight. You overnight in a simple guest house in the Meru Betiri National Park.
Day 03. Sukamade Beach – Kalibaru Plantations
The next day, you can explore the surroundings of Sukamade and the National Park, if you like. Then, on our way to Kalibaru we can stop at the bay Teluk Hijau where you can swim or just enjoy the scenery. It is a six hour drive to Kalibaru, We stop on the way to have lunch at local restaurant.
Day 04. Kalibaru – Mount Bromo Hotel
After breakfast, you can visit a local factory where coffee, rubber and chocolate (depending on the season what is harvested) are processed. Then, we continue to the village Cemara Lawang near mount Bromo. It will take about four to five hours to reach the village. Of course, we will stop for lunch. You spent the night in a village with a view at the Bromo landscape.
Day 05. Sunrise at Mt. Bromo – Drop Off Surabaya
It is very early if we wake you up. It is around three o'clock in the morning if you want to see the sun rise over the astonishing landscape. You have coffee or tea before leaving to Pananjakan by car. The last three kilometres to the top of Mt Pananjakan (2770 m) you will have to hike. Then we will descend to the Sea of Sand you have to cross if you want to see the crater of mount Bromo. Finished mount bromo tour package and we go back to the hotel to have breakfast. And then suddenly it is time for you transfer to Surabaya. Tour to Ijen Crater Sukamade Kalibaru Bromo Sunrise for 5 Days 4 Nights ended
Ijen Sukamade Kalibaru Bromo Surabaya Tour Price 5 Days 4 Nights
Please contact us for more information about Mount Ijen Sukamade Kalibaru Tour PAckage Price 5D4N
Facilities Tour Package above have including :
Shuttle transfer In / Out
Hotel accommodation
Private Air – Conditioned Car
Breakfast
Entrance fee
Guide service
Fourwheell drive Jeep in bromo
Tour Package above excluding :
All personal expenses such as room service, laundry, telex, facsimile,meals, telephone etc.
Any other optional tours, which is not specified in the itinerary.
Gratuities and tips for local tour guide and driver.