Treking Tour to Mount Semeru 2 Days 1 Night, a thrilling and very memorable challenge to conquer the highest mountain on the island of Java. Only with 2 days 1 night you have to reach the summit of Mount Semeru in the Bromo Semeru National Park area in East Java. The journey starts from Malang or Surabaya then to the village of Ranupane as a starting point for preparing permits for climbing, supplies or just completing personal needs before continuing climbing to the mount semeru.
Also read : Bromo Tour Package Price – surabayabromotour.com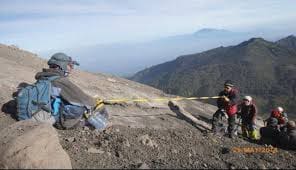 Trekking Tour To Mount Semeru 2 Days 1 Night
The beauty of Mount Semeru is very attractive to mountain climbers. But behind its beauty, this highest mountain on Java Island has many rules that all participants must obey before climbing. If you are interested in climbing Mount Semeru for 2 days and 1 night the following is the details of the itinerary.
Itinerary Mount Semeru Trekking 2 Days 1 Night
DAY 1: ARRIVAL – TRANSFER TO RANU PANE – RANU KUMBOLO – KALIMATI (L, D)
07.00: Arrive at Malang, you will be pick up at Meet point (Abd. Saleh Airport / Station / Terminal / Malang Hotel)
8:30: The journey will begin with heading to Ranu Pane
9:30: Arriving at Ranu Pane, you are welcome to prepare for Trekking.
9:30: Start the Trekking towards Ranu Kumbolo
12.30: Arriving at Ranu Kumbolo, participants will take a break and have lunch while enjoying the beautiful scenery.
13.00: participants will be invited to continue their journey to Kalimati
17.00: Arriving at Kalimati, you will start Camp and enjoy Dinner on Location.
DAY 2: PUNCAK MAHAMERU – KALIMATI – RANU KUMBOLO – RANU PANE – TRANSFER OUT (B,L)
00.00: In the evening you will start trekking towards Mahameru Peak
05.00: After about 5 hours of travel, you will arrive at Mahameru Peak, and will enjoy the beauty of the view of Sunrise at 3676 asl
8:00: You will return to Kalimati
09.00: After arriving in Kalimati, packing equipment
10.30: You will leave for Ranu Kumbolo
14.00: Arriving at Ranu Kumbolo, resting and enjoying lunch
15.30: After taking a break then you will begin the journey to Ranu Pane
20.00: Arrive at Ranu Pane, take a short break
21.00: Transfer to Malang or hotel in Bromo or Surabaya. Tour ended.
Mount Semeru Trekking Tour Price For 2D1N
| Total Participants | Price Per Person |
| --- | --- |
| 1 Person | IDR 6.500.000 |
| 2 Persons | IDR 4.050.000 |
| 3 Persons | IDR 3.500.000 |
| 4 Persons | IDR 3.250.000 |
| 5 Persons | IDR 2.850.000 |
| 6 Persons | IDR 2.750.000 |
Semeru trekking 2D1N facilities does includes
Transportation according to the number of participants
Parking fees, toll fees, tourist attractions fees
Entrance Ticket to Tourism Object (Main Gate)
Meal during climbing to mount semeru
Mineral water during Semeru Trekking
A health certificate from a doctor
Logistics during climbing
Permission to climb
Camping equipment, sleeping bags, mattress, tents, etc.
Cooking ware
Porter during the climb
Tour guide
Needs To Be Prepared Before Climbing to Semeru
Copy of KTP/Passport 2x (Identity Card)
Warm clothes (jackets), flashlights, and trekking shoes
Daypack / Backpack
Raincoat (if during the rainy season)
Terms and Conditions of Semeru Trekking :
Prices can change if there is a change in the price of a component that is outside the standard tolerance, adjust the concept of travel and the allocation of the number of participants.
Expenditures outside the tour package components are borne by the tour participants.
Prices do not include optional tours or additional objects.