Mount Semeru Bromo Ijen Volcano Tour Trekking 6 Days 5 Nights
Mount Semeru Bromo Ijen Volcano Tour Trekking 6 Days 5 Nights. East java volcano tour with combinations trekking trip to the highest semeru mountain on the island of Java,camping at ranu kumbolo,adventure by jeep 4WD in mount bromo and climb to ijen crater in East of Java for 6 days 5 nights with meeting point journey from surabaya airport .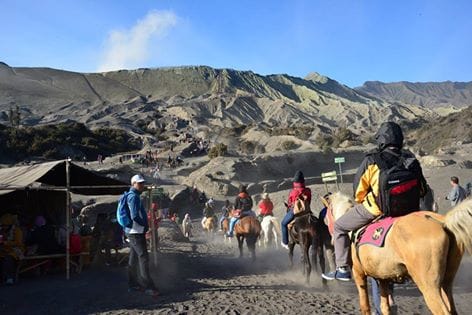 Mount Semeru Bromo Ijen Tour Package 6 Days 5 Nights
Semeru Bromo Ijen Crater Tour Package 6 Days 5 Nights, Mount Semeru in the highest mountain in Java island, the best destinations for trekking and hiking in east java. Mount Semeru in the area of Bromo Tengger Semeru National Park, one region with tourism objetc of Mount Bromo.
Mount Bromo become a favorite destination of local tourists and foreign tourist at this time as the natural attractions of active volcanoes. But for foreign tourists visiting Indonesia especially in East Java will simultaneously combine tourist destination to Mount Bromo and Ijen crater blue fire that became an international tourist destination.
For connoisseurs of the volcano very fit if you choose package climbing and camping to mountain a memorable time at East Java . surabayabromotour.com offers for those of you who are hobbies of traveling and climbing to the following active volcanoes are Itinerary Semeru Bromo Ijen Crater Tour 6D 5N is as follows :
Semeru Bromo Ijen Trekking Tour 6D5N Itinerary
DAY 01 : SURABAYA – RANUPANE VILLAGE

Upon arrival in Surabaya airport in the morning our tim will pick your up and then driving to Ranupane Villages (2,200 m asl) is about 4-5 hours drive. Ranu pane is the last village to begin the climbing towards the mountain semeru summit. Arive in ranupane check in homestay and free program.
DAY 02 : RANUPANE – RANU KUMBOLO – KALIMATI CAMPSITE

Wake up early morning,breakfast and then check logistic,permits and start Trekking to Ranukumbolo lake (2,400 m asl) about 4-5 hours walk or hiking. Arrive at ranukumbolo and continues trekking to Kalimati (2,700 m asl) and then up to Arcapada. Ranu Kumbolo – Kalimati is about 10 km, about 2 – 3 hours walking.
Kalimati is an open grassland on the foot of mount semeru. Stay overnight in tent at kalimati.
DAY 03 : KALIMATI – SEMERU SUMMIT – KALIMATI – RANU KUMBOLO CAMPSITE

At midnight wake up and then continues climbing toward mount semeru summit start at 02.00 am, normally we need 3 – 4 hours trekking (the road is very steep climb and sandy sometimes with avalance, the land is fragile here) your need for very carefully.
Arrive at the semeru summit on the sunrise time. After enjoying sunrise and enshrine photograph, walk back down to base camp kalimati for breakfast. The walk down is much faster, normally only 2 hr or a little more. After breakfast at kalimati, then continued walk to Ranu kumbolo.Arrive at Ranukumbolo stay overnight at tent. Free program
DAY 04 : RANU KUMBOLO – RANUPANE – HOTEL BROMO
Enjoy the atmosphere and beauty sunrise at ranu kumbolo, After breakfast then walk back 3 – 4 hrs to Ranupane village. From Ranupane we will picked up and tranfered to hotel in Bromo. Arrive in Bromo Hotel check in and free program.
DAY 05 : BROMO TOUR SUNRISE – BROMO CRATER – HOTEL IJEN
Morning call at 03.00 AM, start your journey in bromo area started at 03.30 AM pick up from hotel with jeep 4WD to enjoy the beauty of nature and the splendid sunrise at Mt. Penanjakan. After finish enjoying sunrise from pananjakan then proceed to Bromo crater through the sea of sand. After finish trip in bromo back to hotel , breakfast and taking a bath in hotel. Leaving bromo toward located hotel in Ijen with durations trip around 4-5 hours driving. Stay overnight at hotel ijen, free program.
DAY 06 : MOUNT IJEN TOUR – SURABAYA/KETAPANG/BALI
Early morning chek out hotel and depart to Mt. Ijen. Duration trip to paltuding post from hotel around 30-45 minutes. Arrive at paltuding continued hiking to mount ijen with a distance of 3 km for 2 hours climb. Reached the top of Mount Ijen then you free enjoy the beauty of Ijen crater lake, blue fire and sulfur miners activities.
After finish back to paltuding then drop to surabaya or ketapang harbour or bali island. Tour ended.
Related Post :
Semeru Bromo Ijen Tour Package Price for 6 Days 5 Nights
Please contact us by Email : travelsbromo@yahoo.com
Price include :
– Private Car full AC For pick up and transfer out and Bromo Ijen Tour
– Include driver , fuel/gazoline, toll and park fee
– Accomodation at guest house near mount semeru, such us at Ranu Pane Homestay, Tumpang Homestay or Hotel at Mt Bromo
– Accommodation hotel near Mt Bromo (Bromo Permai Hotel / Cemara Indah Hotel / Cafe Lava Hostel)
– Accommodation hotel near Mt Ijen (Arabica Guest House / Catmor Guest House / Ijen View Bondowoso)
– Jeep 4WD for Mount Bromo Tour
– Entrance fee Ticket to mount semeru
– Insurance Permit for Trekking Semeru
– Porters Team (amount depend of participant)
– Tent, Matress, Sleeping Bag,
– Breakfast , Lunch and Dinner during Mt Semeru Trekking
– Medical chek for Climbing permit
– Mineral water drink during trip
– English Speaking guide and experienced for Semeru Trekking
– Local Guide for Ijen Trekking
– Gask Mask in Mt Ijen
Exclude :
– Lunch and Dinner in Bromo and Ijen
– Personal Travel Insurance
– Additional meal, Soft drink, Refreshment
– Personal Expenses
– Tips.