Bromo Tumpak Sewu Waterfall Camping Tour
Bromo Tumpak Sewu Waterfall Camping Tour. Mount Bromo is not the only interesting tourist spot for 3 days in East Java. There are still many places that can be visited while in East Java as your adventure trip in Indonesia.
Besides Bromo, the Tumpak Sewu waterfall is worth considering. This beautiful waterfall like Niagara Falls in North America is located at the foot of Mount Semeru which is 4-5 hours from Mount Bromo.
Bromo Tumpak Sewu Camping Tour Package is a trip on Mount Bromo camping and continued visiting Tumpak Sewu waterfall in Lumajang, East Java. 3 Days 2 Nights is the best way tour Bromo Tumpak Sewu by camping.
Bromo Tumpak Sewu Waterfall Camping Tour 3 Days 2 Nights
Tour to Mount Bromo in general is a drive by jeep in the morning to enjoy the beauty of the sunrise from the viewpoint of Pananjakan and walk to the Bromo crater when you book a Bromo tour package.
Tour camping in Bromo is the most complete package to explore the best spots around Bromo, not only the sunrise and Bromo crater you can enjoy, the atmosphere of the night on the mountain and see the beauty of the Milky Way. And you have to prepare equipment such as cameras and tripods.
Also read : Bromo Ijen Milky Way Tour 3 Days
Meanwhile, to enjoy the Tumpak Sewu waterfall, you not only need guts but enough stamina because on this trip you have to go down a cliff with a bamboo ladder that is not so sturdy with the help of holding a rope.
Upon arrival at the bottom of the cliff still had to walk through the river against the current to reach the best view of Tumpak Sewu Waterfall. From here, don't forget to go all the way to the Tetes cave and the Kapas Biru waterfall.
Tour Destination of Mount Bromo Waterfall Tumpak Sewu Tour with Camping
Bromo Camping Place at Kingkong Hill
Tumpak Sewu Waterfall
Kapas Biru Waterfall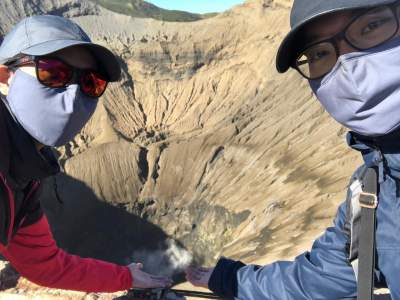 Bromo Crater
Sunrise View at Penanjakan View Point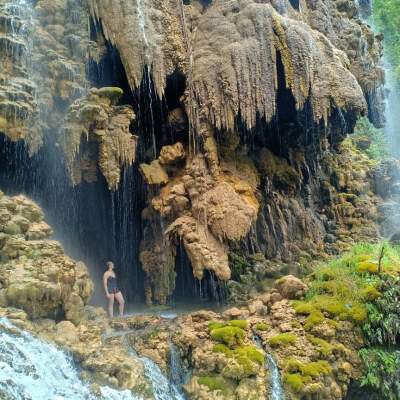 Tetes Cave
Malang Color House (Rainbow Buildings)
Itinerary Mount Bromo Tumpak Sewu By Camping (3D2N)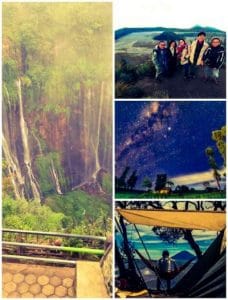 Day 01 : Surabaya – Bromo Campsite

From Surabaya ,Our driver will pick You up using private air conditioned Car then take your to the Jeep parking on Cemoro Lawang for 3,5 hours driving.
Note : Camp place in Bromo at mentigen hill or kingkong hill
Get the campsite, Stay relaxly inside the tent until night time, From this peak You will have more time enjoy Mount Bromo stargazing and twinkles directly from your tent while
Our porter will provide You bonfire to warm your body and provide hot drinks like tea or coffee.
Mount Bromo Milky Way Tour time will finish at 05.00 AM. (Prepare your camera and tripod).
Day 02 : Mount Bromo Sunrise Tour – Tumpak Sewu Village
Finish enjoy Mount bromo Milky Way photography, Continue take picture for the Sunrise appears at 05.20 AM and continue taking picture for other views like Sea of Sand, Mt Batok, Semeru Volcano (the highest volcano in Java Island usually use for climbing tour).
06.30 AM, Return to your Jeep, continue your trip toward Mount Bromo crater by stop at Sea Sand.
And From this parking area, You will visit the Crater by trekking during 30 minutes, possible use the horse ride for 15 minutes.
09.30 AM, Finish enjoy the Crater, Head to Pronojiwo village in Lumajang City area for about 4-5 hours driving by private car. You can stop wherever you want, talk to our driver or guide. Check in Homestay Tumpak Sewu Area ( because there are no hotels around Tumpak Sewu ),Free Program
Day 3 ( Tumpak Sewu Waterfall – Color House – Surabaya )
Before going to the waterfall, Breakfast first then walk to the Tumpak Sewu Waterfall. This waterfall is very different from other waterfall tour because we have to follow the river, up and down the cliff. Of course we must be extra strong and careful. That waterfalls can be classified as an extreme journey is synonymous with adventure, it takes 5 hours to explore the Tumpak sewu tour series : Panorama Tumpak Sewu waterfall, Nirwana Waterfall, Telaga Biru and Goa Tetes. Goa Tetes is a cave with rainfall and a lake in it and then a waterfall and there are naturally occurring stalactites and stalagmites.
After Done in these three places then return to the accommodation area, lunch shower and then prepare to Surabaya for about 6 hours drive. If you have enough time, you can stop to visit the color house in Malang (rainbow building). Arrive in Surabaya and Mount bromo tumpak sewu camping tour 3 days 2 nights is ended.
Bromo Sewu Waterfall Camping Tour Package Price
Please Contact Us for more Information about The prices of Mount Bromo Tumpak Sewu Waterfall Tour Package By Camping for Milky Way Photography (3 Days 2 Nights)
Send email to travelsbromo@yahoo.com
Whatsapp : +6281 336 276 475
Tour Price Includes
Local driver with English speaking
Private AC (air conditioned) transportation from Start until finish
Transportation fuel, travel tax and parking fee
Entrance Fee for all tourism according itinerary
Mineral dringking along the trip
Private Jeep 4 WD to take You to Pananjakan (campsite)
Private jeep 4 WD to visit Mount Bromo crater (after Mount Bromo camping)
Tumpak Sewu Tour included local guide to keep your climb to bottom of Waterfalls
1 Night Camping on Bromo Peak included facility (small and big tent, sleeping bag, matras, hot drinks for tea or coffee, bonfire to warm body, Breakfast after Camping on Mt Bromo).
Porter to server Mount Bromo camping.
1 Night accommodation included Breakfast around Tumpak Sewu Waterfaall
Travel responsibility
Excludes :
Personal expense
Lunch and dinne
Horse in bromo
SurabayaBromoTour.Com is the choice of the best travel agent in East Java to accompany you on an adventure on Mount Bromo by camping and hike to tumpak sewu waterfall. The other camping tour packages that you can choose are Bromo Ijen Camping Tour 3 Days 2 Nights.