Semeru Bromo Ijen Tumpak Sewu Waterfall Tour Package 5 Days 4 Nights
Semeru Bromo Ijen Tumpak Sewu Waterfall Tour Package for 5 Days 4 Nights. – surabayabromotour.com provides adventure to 3 active volcanoes in East Java, namely the highest Mount Semeru on Java Island, Bromo Sunrise, Ijen Crater Blue Fire while visiting the best waterfall in Lumajang, East Java, commonly known as tumpak sewu waterfall.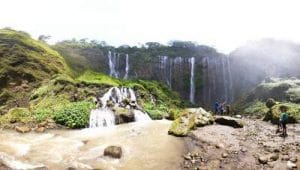 Semeru Bromo Ijen Tumpak Sewu Waterfall Tour Package 5 Days 4 Nights
5 Days 4 Nights trip to Surabaya, East Java to get the best experience of exploring, climbing, camping in some of the famous mountains in Indonesia. On this trip our guide will always accompany each trip in Semeru Bromo IjenTumpak Sewu waterfall starting with departure and returning to Surabaya Airport or Ferry Harbor to Bali.
5D4N Semeru Bromo Ijen Tumpak Sewu Waterfall Tour Itinerary
Day 01 Surabaya – Mount Bromo

We will Pick up at Juanda Airport then from Surabaya we will drive Drive to bromo with air conditioning vehicle take 3,5 hours, we will overnight in Overnight in bromo area.
Day 02 Pananjakan View Sunrise – Mount Bromo – Ranu Pane – Ranu Kumbolo – Kalimati Camp 2700m (B,L,D)

Early morning we will take you to see the spectacular sunrise from Mt Penanjakan with 4WD jeep. You will enjoy the magnificent view of Mt Semeru and Mt Bromo from the summit of Mt Penanjakan.Then we will drive you through vast of sandy area (lautan pasir = ocean of sands) across to go to summit of Mt Bromo. It is a concrete well mark steps to the edges of great crater. From here you can see the ocean beach and viewing the Hindu's temple held by Tengger Tribe from Bromo.Back to hotel,loading your bags adn check out hotel in bromo. Then we will drive to ranupane village 2100 m and starting to trekking take 6-8 hours to Kalimati Camp 2700m before sun down. We will hike in good pace while enjoying view of Mt Argopuro. Sometime you will spot the big smoke erupted from Mt Semeru in every 20 minutes or so. Hopefully all the member will arrive in Ranu Kumbolo in afternoon, then having lunch and short break.
Our journey continue to Kalimati (Dead River) with passing vast field of savannah just about the feet of Mt Semeru. Here you will stay in a camp, having resting to prepare summit attack in the midnight. As the climbing will take tool of energy we suggest you to have a good sleep.
Day 03 Semeru Summit 3676m – Pronojiwo Lumajang Homestay (B,L,D)
In the dark you will start climbing on rough ground, steep hike about an hour to Arcapada. You have to be careful due the landslide common happen in these area, so make sure that you have a strong torch to light your path. The route to the summit quite straightforward, in the sandy loose ground will again test your stamina. Prepare to slide down when you try to go up. Having trekking poles will be valuable to help you balances with the movement. Most people reach the summit about 3 hours, but it depends on everybody's ability to keep going. It's been advised by National Park to decent the summit before mid day due the gas produces by continuing smokes of Mt Semeru.
Reaching the summit (Mahameru) you will enjoy the view of the major part of East Java. You will stand in the highest mountain in Java. You have to see the small-scale eruption every 20 minutes full of smokes and stones. So enjoy your achievement today, you've deserved it but mind do not too close to the crater as the Mt Semeru is an active volcano.
Then we descend from summit back to Kalimati (camp) to have breakfast and to rest for a long morning trek. After breakfast we will continue to Ranu Kumbolo – Ranupane (est 3-4hrs) and drop to homestay at lumajang. Stay here.
Day 04 Pronojiwo Lumajang -Tumpak Sewu – Hotel Ijen (B)
Before going to the waterfall Breakfast first then walk to the Tumpak Sewu Waterfall.This waterfall is very different from other waterfall tour because We have to follow the river, up and down the cliff. Of course we must be extra strong and careful. Waterfalls that can be classified as an extreme journey is synonymous with adventure, it takes 5 hours to explore the Tumpak sewu tour series : Nirwana Waterfall, Telaga Biru and Goa Tetes is a cave with rainfall and a lake in it and then a waterfall and there are naturally occurring stalactites and stalagmites.
After Done in these three places then return to the accommodation area, shower and then prepare to go to the area of Mt Ijen for about 5 hours drive.
Arrive at Hotel Mount Ijen area, then check in.
Day 05 Mount Ijen Crater – Surabaya or Ferry Port To Bali (B)
Early in the morning, well before sunrise, we drive a short way to the start of the trail that leads up to the active beautiful crater of Kawah Ijen volcano (about 1 hr climbing) with its famous blue acid lake (which is the most acid in the world!) and the hot, partly liquid sulphur deposits. The fumaroles are so hot that sulphur comes out as green vapor. After plenty of observation time, we leave the Ijen Plateau and drive to surabaya or ferry port to bali. Ends trip.
Semeru Bromo Ijen Tumpak Sewu Waterfall Tour Price 5 Days 4 Nights
| Participant | Price |
| --- | --- |
| 2 Person | IDR 8.100.000/pax |
| 3 Person | IDR 6.900.000/pax |
| 4 Person | IDR 6.285.000/pax |
| 5 Person | IDR 5.625.000/pax |
| 6 Person | IDR 5.375.000/pax |
| 7 Person | IDR 5.750.000/pax |
| 8 Person | IDR 5.560.000/pax |
| 9 Person | IDR 5.400.000/pax |
| 10 Person | IDR 5.280.000/pax |
| 11 Person | IDR 5.175.000/pax |
Room Composition
2 pax = 1 standard room
3 pax = 1 standard room + 1 extra bed
4 pax = 2 standard rooms
5 pax = 2 standard rooms + 1 extra bed
6 pax = 3 standard rooms
7 pax = 3 standard rooms + 1 extra bed
8 pax = 4 standard rooms
9 pax = 4 standard rooms + 1 extra bed
10 pax = 5 standard rooms
11 pax = 5 standard rooms + 1 extra bed
TOUR INCLUDE
private AC Caoch
Private Jeep for Bromo Sunrise Tour
English speaking driver
English speaking trekking license guide
1 night home stay on Pronojiwo Lumajang
1 night camp on Kalimati (2.700m)
1 night hotel around Bromo
1 night hotel around Ijen plateau
Entrance fee National Park Bromo Tengger Semeru + Ijen Crater
Porter Team in Semeru
Tent + Sleeping bag & a mattress
Each Get a bottled mineral waters
Cooking equipment
Toilet tent
Trekking activity at mount Semeru 2 days 1 night
Breakfast, lunch and dinner as mentioned above
Local guide in ijen
Local Guide In Waterfall
Exclude :

Personal expenses are not mentioned above such Laundry, Alcoholic drink, etc
Travel Insurance
Gas Mask Rent In Ijen
Horse In Bromo
International or Domestic air fare
Tip for Guide and Driver
Lunch and dinner besides mentioned above
WHAT SHOULD YOU BRING

Camera,Light Jacket,Sunscreen,Rain coat (December – April), Sun glasses, Toilet paper wet and dry, Personal medicine, Small amount of money, Flashlight, Personal hygiene items (e.g. tampons, etc), Light fleece / sweater, Towel (for the 4 day), Spare T-shirt, Warm hat (for evening, morning and summit), Tiger Balm or spray muscle (for muscle pain), Long pants and shorts, Gloves and Trekking Poles.
Related Trip Semeru Bromo Ijen Tumpak Sewu