SurabayaBromoTour.Com is a local travel company in East Java Indonesia that provides the best tour to mount Bromo departure from Surabaya city center with a direct pick-up location from the airport, train station, bus terminal, guest house, apartment, hostel, hotel ,etc.
Mount Bromo is part of the Bromo Semeru Tengger National Park, an active volcano located on the border of Malang, Pasuruan, Probolinggo, and Lumajang regencies which has become an icon of nature tourism in East Java, Indonesia. From the city of Surabaya, the distance to Mount Bromo can be reached within 2,5-3 hours driving by toll road from Juanda International Airport Surabaya or Surabaya Train Station or Surabaya Purabaya Bus Terminal. Mount Bromo tour is more ideal with departure and returns via Surabaya city.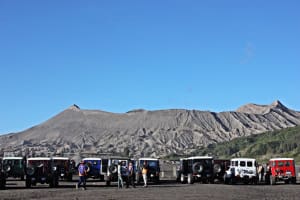 Surabaya to Mount Bromo
Surabaya is the second largest city in Indonesia and the capital of East Java. Surabaya is a major transportation hub in East Java Indonesia, so it's not hard to get there by plane or train or car.
Mount Bromo is located in East Java, Indonesia. It is the most active volcano in Java and one of the most popular tourist attractions in East Java. Mount Bromo stands on top of the Tengger massif at an altitude of 2,619 meters above sea level
You're can going by car from Surabaya to mount bromo though be for some long drives it will probably take about 3 hours to Mount Bromo.
Good Way to Get Surabaya – Mount Bromo
Public transport is the best way. The city has many bus routes and trains, so you can easily get from one place to another.
You can take a train directly from Surabaya to Mount Bromo in less than three hours with a stopover at Probolinggo city.
If you have more budget on your trip, there are also private tour mount bromo from Surabaya which has been arranged as completely as include all accommodation.
Mount Bromo Tour Package
Bromo Tour Package is one of the best tour package to visit mount Bromo Indonesia for tourists who come directly from their respective countries outside Indonesia. There are many choices of mount bromo tour package from Surabaya for example, Bromo tour midnight 1 day and bromo package 2 days 1 night by camping or staying at a hotel close to Bromo mountain.
Having a lot of vacation time in Surabaya, Indonesia, you can also visit other nearby tourist attractions, such as Ijen Crater, Tumpak Sewu Waterfall, Mount Semeru, and many other choices of tourist destinations in the vicinity.
Mount Bromo Travel Guide
Here is a travel guide to Mount Bromo. because it is not easy to do Bromo sunrise tours if you don't know where the location is, how to get to Bromo, booking Bromo (Bromo entrance tickets only valid for online booking), and places to stay.
Tour to Mount Bromo is one of the most popular tourist attractions for domestic and foreign tourists. The majestic active volcano with an altitude of 2,329 meters above sea level has fresh and cool air of 10 to 15 degrees during the day, even strengthening to 0 degrees at night on certain days in the dry season. Of these volcanoes, the one that means the most to the hearts and souls of the Javanese is the iconic Mount Bromo Tengger.
To reach the jewels high in the Java sky, admire the drive through stunning views of peaks, ravines, and dense forests, lined with vegetable plantations and traditional houses. Tourists rest and relax in guesthouses and hotels that offer unique hospitality from the local culture. As they move, they pass through views of the caldera crater and see the legendary sea of sand, and finally climb the 250 concrete steps to the crater rim of the iconic Mount Bromo. to be greatly appreciated.
Activities While Being On Mount Bromo
Seeing the sunrise on Mount Bromo, Indonesia
Walk towards the crater of Mount Bromo
Adventure with 4Wd car
Ride a Horse in the Sea of Sand Bromo (Optional)
Observing the Milky Way at night (Optional)
Seeing the sunset on Mount Bromo (Optional)
How to get to Bromo
There are many ways to get to Bromo, more details can be seen here: How to get to Bromo
Best time to visit Bromo
When is the best time to visit Mount Bromo is during the dry season – April to October. And the best month are visited to get the perfect view of the Bromo sunrise from May to August with less chance of rain.
Places to stay
Before looking for a place to stay in Bromo, you must know the location of Bromo and how close you are at that time.
Access to Mount Bromo can be through 4 entrances including Tumpang Malang, Tosari Wonokitri Pasuruan, Cemara Lawang Ngadisari Probolinggo and Senduro Lumajang.
Surabaya is also not bad as a place to stay because the distance to Bromo is only 2-3 hours driving, the same as if you are on a Bromo tour from Malang city. Surabaya is the capital of East Java and the largest, here are many hotels that can fit your budget.
If you are in Surabaya, you can book the Bromo Midnight Tour or Mt. Bromo sunrise tour 2 days 1 night.
Hotels near the most popular Bromo and direct views overlooking Mount Bromo are only on the route to Bromo via Probolinggo City – Cemara Lawang Village Ngadisari. Hotel name: Lava View Lodge, Bromo Permai Hotel, Cafe Lava Hostel, Cemara Indah Hotel.
Currency Exchange
The currency used for transactions in Indonesia is rupiah (IDR), you can exchange money in advance at the Surabaya airport or at the money exchange center. Because every transaction here still uses a lot of cash.
Internet connection
Most likely the internet from the sim card on your cellphone will not be connected. You can buy a local sim card or look for a WIFI connection to connect to the internet. Internet connection is available with only 3G/4G speed.
Best Mount Bromo Tour from Surabaya
The charm of the beauty of Mount Bromo has always been the attention of many tourists. What's interesting about the tourist attractions of Mount Bromo is to see the sunrise and Bromo crater. The city of Surabaya, which is so close to the location of Mount Bromo, supports the travel of tourists who will come to Bromo, it only takes 2-3 hours of driving to reach the destination.
1. Mount Bromo Tour Midnight 1 Day
Bromo Midnight is a trip to Mount Bromo without staying overnight with departure from Surabaya at midnight (00.00 am). The duration of the trip is only 12 hours in 1 day, so from Surabaya to Bromo you can directly visit the tourist spots on Mount Bromo and after that you will return to Surabaya on the same day.
2. Mount Bromo Tour 2 Days 1 Night
Coming to Bromo without staying overnight may be too tiring for tourists who come from far away. Bromo tour package 2 days 1 night is the best choice for a trip to Mount Bromo by staying at a hotel near Bromo so that you can enjoy the atmosphere of Mount Bromo more fully.
3. Mount Bromo Camping Milky Way Tour
Camping is the right choice for a trip to Mount Bromo with the aim of enjoying the view of the stars in the sky at night. For tourists who have a hobby with nature photography activities, it is highly recommended to camp because with this tour you will be taken to an atmosphere that is really close to Mount Bromo.
Things to Do around Mount Bromo
But did you know that around Mount Bromo there are many other interesting destinations that are in great demand by tourists from within the country to abroad.
East Java is the perfect destination for ecotourism, adventure, photography, artists, nature lovers, and culture and culinary lovers. See more about what is interesting around Bromo and the best and most popular choice of tour packages to Mount Bromo and its surroundings.
1. Mount Bromo Ijen Tour Package 3 Days 2 Nights
Bromo Ijen tour package is a combination tour to 2 volcanic locations in East Java. The natural beauty of each of these places is known worldwide, namely Mount Bromo, which is known for its stunning sunrise view, while Ijen Crater is a mountain that has a sulfur crater lake which naturally occurs the phenomenon of blue fire that comes from burning sulfur and oxygen.
You may also like : 
2. Mount Bromo Tumpak Sewu Waterfall Tour 3 Days 2 Nights
Bromo Tumpak Sewu Tour is a combination of tourist trips to 2 different natural attractions including the Bromo volcano and Tumpak Sewu waterfall in Lumajang, East Java.
Tumpak Sewu Waterfall is a favorite because of its wide and beautiful form of water flow like Niagara Waterfall on the border of the United States and Canada, although the water discharge is not so large. The flow of water from this waterfall comes from the foot of Mount Semeru. Near the Tumpak Sewu waterfall there is a cave (Tetes Cave) which can also be visited afterwards.
3. Mount Bromo Semeru Trekking 4 Days 3 Nights
Bromo Semeru tour is more devoted to the journey of climbers. Why is that, because Mount Semeru is the highest volcano on the island of Java which requires a lot of preparation to visit it.
Every visitor to Semeru must be in a fit body condition and must prepare equipment and logistics before starting the hike. Mount Bromo and Mount Semeru are in the same national park area, so it is possible to visit them at once in 3-4 days.
Mount Bromo Ijen Semeru Tour Package Price 2023
Bromo semeru ijen tour package price depends on the tour you order. Are you going with a private tour or taking a tour join with others people?
If you choose the private tour package, here are the Bromo semeru ijen tour costs that are valid for 2023.
| Tour Package | Price Per Person |
| --- | --- |
| Bromo Midnight 12 H | IDR 850.000 |
| Bromo Tour Package 2 Days 1 Night | IDR 1.250.000 |
| Bromo Madakaripura Tour Package 2 Days 1 Night | IDR 1.450.000 |
| Bromo Rafting Tour Package 2 Days 1 Night | IDR 1.700.000 |
| Bromo Ijen Crater Tour Package 3 Days 2 Nights | IDR 1.950.000 |
| Bromo Tumpak Sewu Waterfall Tour 3 Days 2 Nights | IDR 1.850.000 |
| Semeru Trekking Tour Package 3 Days 2 Nights | IDR 3.150.000 |
Note :
Price is valid at least for 4 participants
Price is not valid for the high season (Muslim holiday)
Do you want to book a tour Surabaya Bromo Ijen Semeru Volcano ? for more information about the facilities we provide, please "Contact Us"
You may also like :
What Needs To Be Prepared?
As Mount Bromo, Ijen Crater, and Semeru are the most popular and most beautiful volcanoes in Indonesia to be visited by travelers from abroad such as Singapore, Malaysia, China, Thailand, France, Germany, and from other countries in the world. So make sure to check your belongings so that the trip to the Indonesian volcano is safe.
You need to prepare personal items such as the warmest clothes like a Jacket, Sunglasses, Scarf, Trekking Shoes, Trekking Pole, Flashlight, Mouth Mask, and other equipment because the temperature on the mountain is very cold.