Trip To Ranu Kumbolo Lake (Climb And Camp). Ranu kumbolo is the highest lake in java (2400 masl) located in Bromo tengger semeru national park. The lake itself is a part of an active volcano (Mount Semeru). According to geological analysis, ranu kumbolo formed by an absence of magma in the magma chamber. When the magma chamber empty, the remaining empty space and the materials above were collapsed to fulfill the space cause of gravity.
To go there you have to hike for about 4-5 hours from Ranupani village (starting point). it's a beautiful lake surrounded by a massive field for camping ground. the morning fog is so serene & beautiful, take a half-hour walk around the hill & you will arrive in a lavender field.
Ranu Kumbolo Lake is a freshwater at the foot of Mount Semeru has an area of about 15 hectares. Ranu Kumbolo Lake is familiar for those who will climb to Mount Semeru summit which is the highest active mountain peak on the island of Java.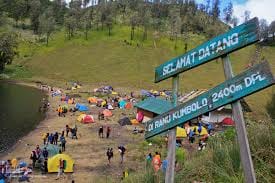 Trip To Ranu Kumbolo Lake
Ranu Kumbolo is one of the favorite lakes used for camping around Mount Bromo Semeru. You could reach there by hiking trip to ranu kumbolo for about 4-5 hours. it's really exhausting but the views are beautiful.
The location of Ranu Kumbolo lake is at the foot of Mount Semeru which is the climbing route to the peak of Semeru. Semeru climbers usually stop at the same time to rest and camp at this place if they take Semeru trekking 3 days 2 nights. Are you interested in a trip to Ranu Kumbolo and camping?
Through Ranu Pani and first checkpoint then climb and camp at ranu kumbolo lake is a magnificent view, the temperature can be below zero so prepare your self well with enough good, good sleeping bag, thick jacket, pants, and socks. Even on the coldest night, you'll find ice flakes on your tent or the things you leave outside.
Itinerary Ranu Kumbolo Trip By Camping 2 Days 1 Night
Day 1 : Pick Up Point – Ranu Pane – Ranu Kumbolo
Meeting point pick-up in Surabaya / Malang in the morning. then headed Ranupane gate ascent to Ranu Kumbolo Lake and Mount Semeru Summit. After arriving in Ranupane, take care of permits and check luggage and then starts climbing towards Ranu Kumbolo. Ascent will be pursued for approximately 4-5 hours of trekking. On arrival at Ranu Kumbolo pairs of tents and overnight.
Day 2 : Sunrise Ranu Kumbolo – Transfer Out
Mornings can be used to see the sunrise at Ranu Kumbolo. After breakfast, we will head climbs love and grassland (lavender field). Back to ranupane village and then travel back to the city of Malang / Surabaya, and the trip ended.
Related Post :
Package Price Ranu Kumbolo Trips 2 Days 1 Night
Price trip to ranu kumbolo 2D1N climb and camp please Contact Us
Facilities Ranu Kumbolo Tour Package 2 Days 1 Night:
Private Transport Ac Transfers In Out From Surabaya / Malang
Jeep 4WD to Ranu Pane
Stay one night in a tent (Camp at Ranu Kumbolo)
Registration and Licensing Bromo Tengger National Park
Camping equipment, Sleeping Bag and Mattress in Lake Ranu Kumbolo
Eating during Trip Camping in Ranu Kumbolo (1x Breakfast,2x Lunch,1x Dinner)
Ranu Kumbolo Lake (Description)
Ranu Kumbolo is the highest lake in Java (2,400 masl). Hiking and camping trips at Ranu Kumbolo are fun activities for beginner climbers because here you can enjoy the natural beauty of the lake which is part of the active volcano Semeru Mahameru.
Lake Ranu Kumbolo is already familiar to those who will climb to the top of Mount Semeru because every climber will pass this lake when going to the top of Mount Semeru. It is very unfortunate if when you go to the peak of Semeru without having to stop and spend the night at Ranu Kumbolo. To travel to Ranu Kumbolo it takes 2 days 1 night and you can start departing from Surabaya or Malang.
And has the climb to Ranu Kumbolo Semeru opened? Yes, the climbing Ranu Kumbolo and Semeru 2021 has been open since April 1, 2021. This location is only closed every year during the rainy season (January – March) unless there are a number of things that require the climb to be closed, for example, landslides, volcanic eruption, or religious traditional events in local areas such as Nyepi or Kasada Bromo.