Mount Bromo Sunrise Tour
Mount Bromo Sunrise Tour. Mount Bromo is very familiar to tourists, especially those who like nature and climbing. As with other mountains in Indonesia, Mount Bromo also has an amazing beauty.
Even Mount Bromo has become an icon of tourism in East Java. Therefore for tourists who come to East Java it seems incomplete if they have not visited Mount Bromo.
Although including a volcano that is still active, in fact it does not reduce the interest of tourists to visit. Its extraordinary natural beauty and the scenery that is offered is amazing to be able to invite tourists from various countries.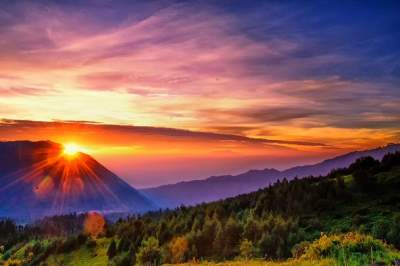 Mount Bromo Sunrise Tour
Bromo Mountain itself is included in the area of ​​Bromo Tengger Semeru National Park and is located at an altitude of 2392 meters above sea level. The weather in Bromo is very cold reaching 3 ° -20 ° Celsius. Even in the dry season, the air temperature in Bromo can reach below 0 ° C. Therefore complete protective clothing, such as warm clothes, jackets, scarves, headgear, gloves, trousers and shoes you must wear while enjoying the beauty of sunrise on Mount Bromo.
Which the favorite moment of climbers is when the sunrise in Bromo from the eastern horizon. By climbing up to its peak which is at an altitude of 2,770 meters, you can see the sunlight emerging from behind the mountain. The atmosphere was so calm when the tourists waited for the beauty of the sunrise on Mount Bromo.
Only the sound of camera shots from tourists who capture the natural scenery as an unforgettable memento. When that moment also you can see the magnificent silhouette of Mount Semeru towering up to the sky. There was smoke rising from a distance with the sunlight slowly rising.
No wonder if Mount Bromo has the nickname as sunrise mountain. In addition to sunrise views, Mount Bromo Sunset Tour is equally beautiful and worth trying.
To meet your needs during your visit to Bromo, both transportation and accommodation, you can use the Bromo tour package, with one of the travel agents that you can use is "surabayabromotour.com" where you can book tour online.
Bromo Sunrise Tour Package from Surabaya
Come to Surabaya and want tour to mount bromo sunrise tour. We offer a package tour bromo sunrise from surabaya can be selected as follows:
With the package above, you no longer need to arrange your own tour because our company facilitates all accommodations during the trip. Arriving at the Surabaya airport or the train station, our staff will pick your up and followed the bromo sunrise tour package program that we provided.
If you have a lot of time, you can also visit tourist attractions around Mount Bromo such as Madakaripura Waterfall, Tumpak Sewu Waterfall, Ijen Crater Blue Fire, Sukamade Turtle Beach, Malang City, Semeru Mountain etc. Below details of Itinerary :
Although not as large as other volcanoes, Mount Bromo stretches across the borders of 4 districts in East Java, namely Pasuruan, Probolinggo, Lumajang, and Malang. These parts are interrelated, both valleys, canyons and caldera. Mount Bromo also has a 10 km2 sea of ​​sand.
Mount Bromo also has a crater with a diameter of about 800 meters that stretches from north to south and 600 meters from west to east. As an active volcano, Mount Bromo erupted several times with the biggest eruption in 1974 and the last eruption occurred in 2011.
The sunrise above the black desert around Mt. Bromo is one of the most iconic sights in Indonesia. Leave Surabaya with a car comfortable, private jeep bromo tour.  Click Here : Mount Bromo Tour Package Price
4 Best Place View Sunrise in Bromo
1. View Point Pananjakan 1 – The Famous of Sunrise
Pananjakan Point, 2,770 meters above sea level is the highest point on Mount Pananjakan for activities to see the sunrise at Mount Bromo, also known as Pananjakan 1 to distinguish it from the Seruni Point spot which is also on the slopes of Mount Pananjakan.
2. Pananjakan 2: The Great Wall of Seruni Point
Seruni Point, 2,400 masl or often called Pananjakan 2, was built to meet the limitations and carrying capacity of Pananjakan 1 by the density of explorers visiting Bromo for sunrise data.
3. Kingkong Hill or Kedaluh Hill
Sunrise Point Kingkong Hill 2,600 masl. The sunrise spot at Bromo can not only be enjoyed from Pananjakan 1 and 2, there are still several other alternatives without reducing the splendor of Bromo crater with its charm and with a more comfortable location without having to jostle with other visitors, one of which is at Kingkong Hill.
6. Mount Dingklik
This Bromo sunrise spot is the first you will find if you come from Pasuruan. The location is not far from the gate of Bromo Tengger Semeru National Park. Although the place is smaller than Penanjakan 1, you can enjoy the Bromo sunrise more freely here.