Mount Bromo Rafting Tour 2 Days 1 Night is a combination of the Mount Bromo Tour and white water rafting in East Java, Indonesia. This is one of the adventure packages that we offer a duration of 2 days 1 night. The location of white water rafting which is not far from the Mount Bromo area which can be taken 1-2 hours drive is very appropriate to be an additional place for your visit around Bromo.
Also Read : Mount Bromo Tumpak Sewu Waterfall Tour 3 Days
Mount Bromo River Rafting Tour 2 Days 1 Night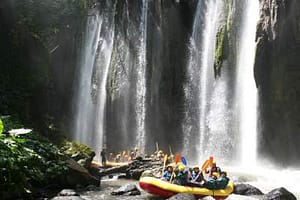 Bromo Rating Tour, you can follow with tour participants from your group at least 4-5 participants. This tour presents a view of the sunrise in Bromo and the thrill of playing a boat on the river Pekalen Probolinggo which is famous for having a large water discharge and beautiful natural scenery.
Also Read : Mount Bromo Ijen Tumpak Sewu Waterfall Tour 4 Days

The Pekalen River is a 12 km rafting location, within the rafting route there are views of rows of bat caves and waterfalls not found on other rivers, various challenging rapids and different class variations.
Bromo river rafting Pekalen tour can be followed by visitors aged 10 – 60 years. Interested in Bromo Rafting Tour Package 2 days 1 night , please see the details below.
Itinerary Bromo Rafting Surabaya Tour 2 Days 1 Night
Day 1: Surabaya – Hotel Mount Bromo
Pickup at the juanda airport, hotel or station by our team and will be delivered directly to the village Cemoro lawang, area bromo hotel with a view hotel direcly to Mount Bromo. Upon arriving at the hotel Bromo Check in hotel, free program.
Day 2: Bromo Tour – Rafting Pekalen – Surabaya
Trip To Bromo begins at 3:30 pm with picked up by a driver JEEP from hotel places stay, then headed vantage point on Mount Pananjakan on the edge of the Tengger Caldera to see the beauty of Bromo Sunrise, after finish toward Bromo crater with Jeep, Arriving at the parking area you can ride a horse or walk to reach the crater bromo. Once satisfied, mount bromo tour package continued return to the hotel, shower and preparation for the rafting base camp at Pekalen probolinggo, after arriving at the base camp and then preparation rafting and rafting duration of approximately 3 hours.
Finished rafting Pekalen probolinggo then return to base camp, showering body and lunch. Transfer out back to Surabaya and program tour ended.
Bromo River Rafting Tour Price
Please contact us for more information about Mount bromo tour and water rafting adventure probolinggo price duration 2 days 1 night
Facilities Tour Package above have including :
Shuttle transfer In / Out
Hotel accommodation in bromo
Private Air – Conditioned Car
Breakfast in hotel
Entrance fee bromo and rafting
Guide service (optional)
Fourwheell drive Jeep
Tour Package above excluding :
Horse in bromo
All personal expenses such as room service, laundry, telex, facsimile, telephone etc.
Any other optional tours, which is not specified in the itinerary.
Gratuities and tips for local tour guide and driver.
Mount Bromo Rafting Tour Package 2 Days 1 Night
Mount Bromo Rafting Probolinggo Tour 2 Days 1 Night is a tour program adventure in east java,natural tourism to visiting mount bromo and rafting pekalen river with minimum participants for a groub 4-5 person.