Bromo Ijen Tumpak Sewu Waterfall Tour Package 4 Days 3 Nights
Bromo Ijen Tumpak Sewu Waterfall Tour Package 4 Days 3 Nights. Experience an unforgettable trip in East Java by visiting Mount Bromo Sunrise, Ijen Crater with the blue fire and the charm of the Tumpak Sewu waterfall for 4 days and 3 nights provided by Surabayabromotour.com.
Tour to Bromo Ijen maybe well known by foreign tourists who come to Indonesia, but the tumpak sewu waterfall is a tourist destination in East Java which is relatively new first known 2015 – 2016. And since then the charm of Tumpak Sewu waterfall has become favorite destinations of tourists from various regions in Indonesia to overseas.
Mount Bromo Ijen Tumpak Sewu Waterfall Tour 4 Days 3 Nights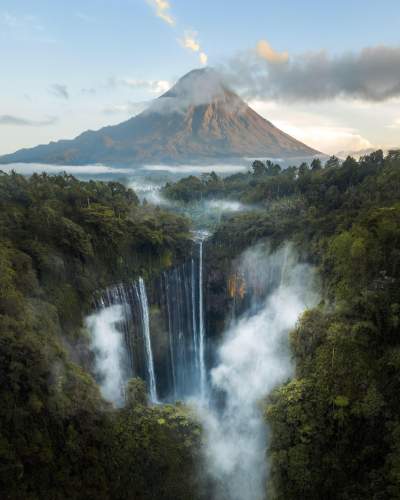 This waterfall is located on Lumajang precisely on the slopes of Mount Semeru which is one of the attractions around Bromo that you can visit while on a tour to Bromo. Tumpak Sewu waterfall is no less beautiful than the madakaripura waterfall, both of which have their own privileges so when you tour Mount Bromo from Surabaya, you can also visit the two locations of the waterfall.
Also Read:
It feels less complete if you travel to Mount Bromo without visiting the Tumpak Sewu waterfall and Ijen crater with blue fire. The following is the Itinerary Bromo Ijen Tumpak Sewu Waterfall Tour 4D3N.
Itinerary Mount Bromo Ijen Tumpak Sewu Tour (4D3N)
ITINERARY :
Day 01. Surabaya – Mount Bromo
Bromo Ijen Tumpak Sewu Waterfall Tour starts by picking you upon your arrival at Surabaya (Hotel /Train Station or Juanda International Airport) and transfer to your hotel near Mt Bromo. The trips need about 3 hours. Rest and having lunch on the way to Mt Bromo. After arrived in the Mt Bromo area chek in the hotel and rest.
Day 02. Mount Bromo Sunrise Tour – Lumajang
Mount Bromo tour will be started at 03.30am. By 4WD gooing to Mt Penanjakan 1to enjoy the beauty of sunrise and exotic panoramic view of Mt Bromo, Mt. Semeru, Mt. Batok. Upon satisfied see the stunning of bromo sunrise going down to the sea of sand then climb up to the peak of mount Bromo. In the route to mount bromo you will see the culture site a Hindus Temple called Pura Luhur Poten. Satisfied explore Bromo Crater , still with 4WD Jeep back to Hotel, having breakfast and rest. After check out continued to your hotel in Lumajang District. The trips need around 3 hours driving. Check in Hotel or homestay near Coban Sewu Waterfall. Stay overnight and free program.
Day 03. Tumpak Sewu Waterfall Tour – Ijen Hotel
Waterfall tour start in the morning around 05.00 am. We will catch view of sunrise from the Tumpak Sewu. From your hotel, we will drive around 1,5 hours to reach waterfall location. Continued trekking down to the waterfall and you will see instagramable view during the trips. Explore the Tumpak Sewu Waterfall until satisfied and continued 5 hours driving to your hotel near Mt Ijen. Check in and rest
Day 03. Ijen Blue Flame Tour – Transfer Out
Ijen Blue Flame Tour start in midnight around 00.00 Am, from your hotel night drive to Paltuding post. After arriving in Paltuding accompanied with a local guide start trekking to peak of mount ijen volcano about 3 Km. This climb usually need around 2 hours of hiking. Enjoying the beauty of volcanoes lake of blue fire or blue flame and surroundings. After finish enjoy Ijen Craters back to Paltuding and transfer out to Surabaya, Banyuwangi , Malang or Bali. End of Bromo Ijen Tumpak Sewu Waterfall Tour.
The Schedule of surabaya bromo ijen tour 4d3n and Tumpak sewu waterfall, the trip is possible depart from Surabaya, Malang, Probolinggo or Yogyakarta and end the trip with the Ketapang Ferry to Bali, back to Malang, Surabaya or Probolinggo.
Mt.Bromo Ijen Tumpak Sewu Waterfall Tour Price 4D3N
How cost/ quote for mount bromo ijen blue fire and waterfall tour package 4 days 3 nights start from surabaya or malang inclusive transport during trip, hotel accommodation, rent jeep tour bromo, local guide, entrance fee for allsite etc.
| Total Participants | Price Per Person |
| --- | --- |
| 1 Person | IDR 6.950.000/person |
| 2 Persons | IDR 4.150.000/person |
| 3 Persons | IDR 3.450.000/person |
| 4 Persons | IDR 3.050.000/person |
| 5 Persons | IDR 2.750.000/person |
| 6 Persons | IDR 2.500.000/person |
* The price of bromo ijen waterfall tour valid for 2021 2022
* Price not for a long weekend holiday, High Season and peak season
* More than 6 people please contact us to get cheaper price
Tour include:
Comfortable Transportation Full Air Cond during trips PP (include : car, driver, petrol, parking and toll fees)
1 night at hotel of Mt. Bromo area (Cafe lava Hostel, Bromo Permai Hotel , Cemara Indah Hotel, Yoschi Hotel, Adas Hotel, Nadia Hotel, Similar) . Extra payment upgrade to Whiz Capsule Hotel Grand Bromo , Lava View Lodge, Sumber Makmur Hotel, Jiwa Jawa Resort, Bromo Terrace Hotel , Bromo Eco Lodge Hotel , Plataran Bromo Hotels And Resort/Similar).
1 night at homestay at Pronojiwo or Hotel in Lumajang City
1 night at hotel of Ijen Crater area (Ijen View Hotel, Arabica Guest House, Catimor Hotel/ similar). Extra payment upgrade to Ketapang Indah Indah Hotel, Watu Dodol Cottages , Ijen Resto, Ijen Resort and Villas, Mirah Hotel /similar)
4WD Jeep for Bromo Sunrise tour and Bromo Crater
Entrance tickets for allsite.
Gas Mask For Ijen Blue Fire Tour.
Local Guide for Ijen Trekking
Breakfast and mineral water
Exclude:
Travel Insurance
Airport tax
Horse riding
Lunch & Dinner
Personal expenses (Bar, Laundry, Tips, etc)