Ceremony Yadya Kasada Bromo is a day of ceremony in the form of offerings to Sang Hyang Widhi offerings. Every month Kasada 14th day in Javanese calendar held the ceremony of offerings to Sang Hyang Widhi and ancestors.
Mt. Bromo has been known as one of major international tourism destinations in East Java, Indonesia. Its beautiful landscape and unique geological characteristics have been strong magnet that attracts travelers to come to see its beauty on their own. Surrounded by sea of sand and also savannah in its southern side, along with the smoke that comes out of its crater, Mt. Bromo offers a breathtaking post card perfect view to its visitors. The sunrise over Mt. Bromo is also said to be one of the most beautiful on earth.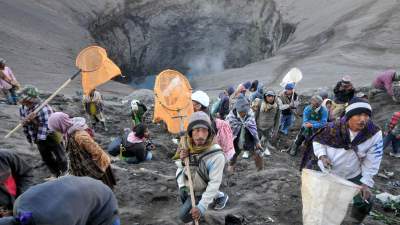 Kasada Ceremony in Bromo 2018 – 2019
Traditional Ceremony Yadnya Kasada in Mount Bromo celebrated once in every year. The existance of Yadnya Kasada Festival have An important event is always held as an offering to god. They celebrated a ceremony Yadnya Kasada as a form of gratitude for bounty the god for the welfare, the harvest is abundant ,etc. Festival Time for Yadnya Kasada Ceremony In Bromo is always celebrated every year and on this year held on 29-30 June 2018 ,according ancient Javanese calender the Yadnya Kasada Ritual Ceremony is always hold in full moon time.
Right on the eve of the 14th month Kasada, Tengger tribe would together carry offerings of livestock and agriculture to Pura Luhur Poten and wait until midnight time when the shaman ordained elders. Next, prepared offerings brought to the top of the crater of the mountain to be thrown into the crater as a symbol of the sacrifices made by our ancestors. For Tengger tribe, the offerings were thrown into the crater Bromo as a form of vows or gratitude for livestock and agriculture are abundant. In the crater appeared to have waited many beggars and perch population living in the interior. Interestingly they long ago had come here even deliberately set up temporary residence in the vicinity of Mount Bromo and hope to get ongkek – ongkek containing offerings of fruits, livestock, also money. Activities perched inland residents who are in the crater of Mt Bromo you can see from the evening time until noon time the day before the Yadnya Kasada Ceremony celebrated.
Mount Bromo Tour Package option during celebrate Yadnya Kasada Bromo 2018 :
Information for Yadnya Kasada Ceremony in Mount Bromo 2018

The best time to enjoy a festival of Yadnya Kasada Ceremony is 2 days 1 night. Because the process traditional rituals of Kasada  Bromo take place since midnight or early morning.
If you are interested to Visit Mount Bromo Tour during Yadnya Kasada Ceremony Bromo 2018,You could contact us by email to get information about bromo tour package price special ceremony kasada in bromo.