Mount Ijen Crater – Volcano in Java Indonesia
Ijen Crater is the name of a crater lake located at the top of Mount Ijen with a lake depth of 200 meters and a crater area of ​​5,466 hectares. Ijen crater lake contains sulfuric acid is the largest acidic water lake in the world.
Mount Ijen is located in the Ijen Tourism Park Nature Reserve area which is located on the border between Bondowoso Regency and Banyuwangi Regency, East Java, Indonesia.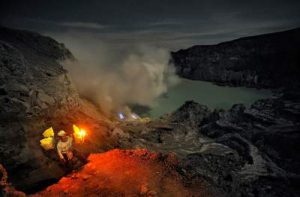 Mount Ijen tourist attractions are widely known by tourists due to the natural blue fire phenomenon in the crater of Mount Ijen which can only be seen when the sky is still dark, therefore the best time climb to the top of mount ijen around 02.00 a.m.
Why does it have to be 02.00 a.m and it can't be earlier because the opening hours for tourist visits in Ijen start at 02.00 a.m.
Ijen Crater in Java Indonesia
Ijen is one of the volcanoes on the island of Java. Based on historical records, Mount Ijen last erupted in 1999. Apart from being a tourist destination, Mount Ijen is also a place for sulfur mining.
Back referring to historical records, Mount Ijen was originally popularized by a pair of geologists and volcanologists from France named Maurice and Katia Krafft.
Long story short, in 1975 the two couples published their research book entitled "À l'assaut des volcans, Islande, Indonésie" ( French-speaking).
It was continued in early 1999 with a TV show featuring nature travels by Nicholas Hulot, and volcanologist Jacques-Marie Bardintzeff at Ijen Crater entitled Ushuaïa Nature which was very popular in France and other French-speaking countries such as Switzerland, Belgium and Quebec, Canada.
And there are still many reality shows, photography and documentary films about the tourist attractions of Ijen Crater which have been circulated in various French and world media in the following years, including National Geographic.
Since then, foreign tourist visits to Ijen Crater Banyuwangi have increased drastically with the main objective of seeing the rare phenomenon of blue fire and sulfur crater lakes.
Best time Visit to Ijen
Climbing to Mount Ijen is open throughout the year as long as there is nothing that requires it to be closed from tourist visits but the best time is to Ijen is during the dry season (climate in Indonesia) with the start of climbing at 01.00 a.m – 02.00 a.m.
Very easy getting to Ijen
There is no easy way to Ijen other than booking Ijen tour package. The reason that makes the most sense and is easy to understand is that using travel services means you don't have to bother taking care of your own accommodation to go to Ijen, such as rent transport, taking care permits / online tickets of Ijen , guides, etc.
Please contact surabaya bromo tour for more information about the price of the tour to ijen and its facilities.
Your may also like : Mount Bromo Ijen Blue Fire Tour Package 3 Days 2 Nights