Ijen Crater Entrance Ticket. Before coming to visit Mount Ijen, you should first check information Ijen entrance ticket and how to booking online because starting April 2019 online booking have been applied to enter the Ijen Crater Nature Park area.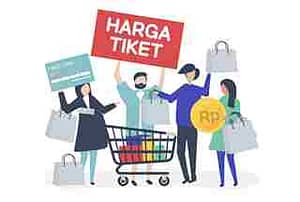 Ijen crater entrance fee are distinguished between weekday and weekend which apply to Indonesian tourists or foreign tourists.
Ijen Crater Entrance Ticket Price 2022
Local tourist ticket prices:
IDR 5,000 for weekday.
IDR 7,500 for weekend.
Foreign tourist ticket prices:
IDR 100,000 for weekday.
IDR 150,000 for weekend.
Ijen Crater / Ijen Blue Fire is one of the volcanic tourist destinations that you must visit if you visit East Java.
To go to Ijen Crater, you have to start climbing from the Paltuding post in Tamansari village, Licin sub-district, Banyuwangi Regency. Climbing to the top of Ijen as far as 3 kilometers which can be taken for 1.5-2 hours.
How to Book Online Ijen Crater Entrance Fees
All visitors must climb at night to be able to see the beauty of the blue fire on Mount Ijen of course after buying an Ijen ticket. Ijen admission ticket registration has been applied online in the following way.
Go to the site https://tiket.bbksdajatim.org/.
Log In using Gmail Account.
Enter Registration Input Data.
Click the 'Booking Ticket' menu.
Ticket Order Form.
You will see the Daily Quota and Ticket Price.
Next Make Payment.
Online E-Ticket is Available.
Online ticket booking requirements:
maintain health, follow health protocols and show vaccine cards via the "Peduli Lindungi" web/application.
Tourists must physically and mentally ready, have no history of asthma and heart disease.
Ticket does not include insurance, all visitors are advised to have personal insurance.
Prepare your own medical equipment (mountain shoes, jacket, gas mask, hand sanitizer).
Ticket that have been paid cannot be changed the day of climbing, canceled / refunded.
Documents for International Travelers to prepare an ID card / passport.
surabayabromotur.com also provides Ijen blue fire tour cheap with departures from Malang, Surabaya, Banyuwangi and Bali.