Entrance Fee Bromo Semeru 2023
Entrance Fee Bromo Semeru – Mount Bromo Semeru Tengger National Park in East Java is one of the tourist sites visited by tourists from domestic and foreign tourism. Before heading to this place, it is mandatory for every visitor to buy Bromo Semeru entrance tickets first.
Please know in advance about the price of admission to the latest Bromo Semeru 2023 if you intend to go there without using the Bromo tour package service and choose to leave by yourself using a motorbike or private car from the Tumpang Malang, Cemara Lawang Ngadisari Probolinggo or Tosari Pasuruan.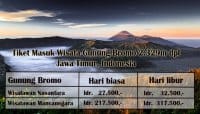 Entrance Fee Mount Bromo Semeru (New Price 2023)
To get to the location of Mount Bromo and Semeru, there are several routes. Routes to Mount Bromo Semeru which can be reached by the southern route is To Bromo and Semeru from the Tumpang Village,Malang which is in the direction of Ranu Kumbolo and Gunung Semeru. Then the route from the city of Pasuruan (tosari) and the most popular is the route to Bromo via Probolinggo. The route from Probolinggo is more attractive to tourists because there are many inns and hotels available close to Mount Bromo.
Mount Bromo and Semeru are tourist sites that are always the center of attention of many tourists, but because there are changes in the price of bromo entrance fee for the local tourists and foreign tourists, it is mandatory for you to know in advance if you plan to take a vacation there.
Mount Bromo Semeru Entrance Fee For Local Tourist & Foreign Tourist
| Mount Bromo | Weekday/Day | Weekend/Day |
| --- | --- | --- |
| Local Tourist | IDR 29.5000 | IDR 34.000 |
| Foreign Tourist | IDR 220.000 | IDR 320.000 |
| Mount Semeru | Weekday/Day/Night | Weekend/Day/Night |
| --- | --- | --- |
| Local Tourist | IDR 19.000 | IDR 24.000 |
| Foreign Tourist | IDR 210.000 | IDR 310.000 |
A Guide Exploring Mount Bromo Semeru With a Tour
Bromo Semeru Tour Guide. Bromo and Semeru are the most famous places and become icons in East Java. To visit it, it needs a careful initial planning so that your trip to Mount Bromo and the Semeru ascent goes smoothly and satisfactorily.
Malang City and Surabaya City are the right locations to start the journey to Mount Bromo and Semeru because the city is the closest. It only takes 2-3 hours to drive you have arrived at the entrance to Mount Bromo and Semeru.
Your trip will be even easier if you use travel agent in Surabaya and Malang to Bromo Semeru because complete facilities have been provided such as hotels, Jeep Bromo and Bromo Semeru entrance tickets or camping equipment if you want to climb Mount Semeru and Ranu Kumbolo.
Here are some Bromo Semeru travel package references that you can choose.
Bromo Tour Midnight 1 Day 12 H (Without Stay)
Trip To Ranu Kumbolo Lake (Climb And Camp)
Mount Semeru Trekking Tour 3 Days 2 Nights