Bromo Tour 2 Days 1 Night – Visiting Mount Bromo for Holiday to Mount Bromo Surabaya East Java by watching the sunrise and climb to the crater of mt. bromo with meeting point from Surabaya or Malang or Probolinggo or Yogyakarta or Bali airport, train station or hotel and returning to the same place with a duration of mount Bromo tour package for 2 days 1 night.

Mount Bromo is one of part the natural scenery in East Java – Indonesia. Mount Bromo is tourism most popular in the natural scenery in the world. There are several peaks in the Bromo Tengger Semeru National Park, there are mount Batok beside Mount Bromo, Mount Kursi, and Mount Semeru or Sumeru or Mahameru is the highest peak in Java and one of the most active volcano. Mount Bromo can be reached by trekking the crater walls and across the desert or sea of sand for around 1,5 km to the peak of Mount Bromo. After passing the 250 steps upstairs, we will find the best view of Bromo crater.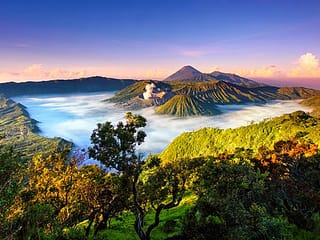 Bromo Tour Package 2 Days 1 Night
Bromo Tour Package 2 Days 1 Night a short trip to Mount Bromo, East Java with a stay overnight is one of the most exciting experiences for traveling to Bromo.
The beauty of Mount Bromo, in general, is seeing the sunrise from the point of view of pananjakan, the sea of sand, and the Bromo crater. In fact, there are many more charms in this fire mountain, for example, savanna grasslands, Teletubbies hills, whispering sand, and photography milky way by camping. To enjoy all the spots on Mount Bromo for 2 days 1 night, you can book a Bromo tour package.
Itinerary Bromo Tour 2D1N
Day 01. Pick Up – Mount Bromo Hotel
Pick up point at the airport, Pick up point at the airport, train station or hotel then transfer to a hotel near Bromo and feel the local atmosphere then free program until travel time in Bromo by jeep starts in the morning the next day.stations or hotel then transfer to hotel closed Bromo and fell the local atmosphere. Free program 
Day 02. Sunrise + Bromo Crater – Drop Off
Tour to Mount Bromo starting at 03.30 by jeep 4WD Going to view point of peak Pananjakan to see the sunrise bromo and the Mount Bromo,Mount Batok,Mount Semeru panorama. After finish enjoying sunrise bromo then going down the hill by jeep 4WD and proceed to visit the sand sea then climb up to mount Bromo from parking jeep area. After finish visit bromo crater back to hotel, breakfast, and transfer back to the final destination of your next tour.  Bromo Mountain Tour 2D1N is Ended.
Also Read :
Bromo Overnight Tour Price 2 Days 1 Night
| Total Participants | Price Per Person |
| --- | --- |
| 1 Person | IDR 3.500.000 |
| 2 Persons | IDR 1.950.000 |
| 3 Persons | IDR 1.550.000 |
| 4 Persons | IDR 1.300.000 |
| 5 Persons | IDR 1.200.000 |
* The price is valid for 2021 2022
* The Price is not valid for the holiday (weekend, high season, and peak season as well as Indonesia public holidays)
* More than 6 people please contact us to get a cheap price
Mt.Bromo Tour 2 Days 1 Night have including   
Shuttle transfer In / Out airport, hotel or train station


Hotel accommodation 1 Night in Bromo Area

Private Air – Conditioned Car   

Meals as stated at itinerary   

Entrance fee   

Guide service   

Horse   

Rent Four-wheel drive Jeep Tour

Excluding :   
All personal expenses such as room service, laundry, telex, facsimile, telephone, etc.   

Any other optional tours, which are not specified in the itinerary.   

Gratuities and tips for local tour guide and driver. 
Attention for Bromo Tour 2 Days 1 Night
Need travel services in Surabaya Indonesia to organize your tour in Bromo? surabayabromotour.com can be chosen as the right tour service to arrange your trip to Bromo before arriving or upon arrival in Indonesia. Go to Bromo in general, is 2 days 1 night in duration but if you need a day tour without staying overnight to Bromo from Surabaya or Malang or Probolinggo, please choose Bromo Tour 1 Day which departs at midnight and returns on the same day. See here the Mount Bromo Tour Package Price. Need attention before going to Bromo so that your trip can be perfect with a satisfying end:
The Best Time to Visit Bromo, Indonesia for Weather
Indonesia is close to the equator and has 3 seasons namely the seasonal climate, tropical climate, and ocean climate. Indonesia can carry out economic activities throughout the year. Indonesia has a dry season and a rainy season that comes every half year.
For tourist destinations, the best time is during the dry season April – October, especially for mountainous regions such as Bromo. When the rainy season is at risk of flooding and landslides.
How long does it take to climb Mount Bromo?
From the jeep parking in the sea of ​​sand area, you have to walk 1 km for 30-45 minutes to the Mount Bromo stairs (another option is to rent a horse). Then climb 250 steps to reach the crater rim.
Is it safe to visit Mount Bromo now?
Even though Mount Bromo has an active status, it is still safe for tourists to visit. See here the update of Mount Bromo eruption.
Why is Mount Bromo famous?
Easy to reach despite its active status apart from that Bromo is one of the best places in the world to see a sunrise view. That's the reason why Bromo is famous.
How to get to Mount Bromo?
There are many ways to go to Bromo, you can go through the city of Surabaya or Malang. The easiest is with a tour package as all needs are arranged by the travel company.
How far is Mount Bromo from Surabaya or Malang?
The distance to Bromo via the city of Surabaya or Malang is only about 2.5 – 3.5 hours by private car, which is about 130 km through Ngadisari Probolinggo and 112 km via the Pasuruan Tosari route. Meanwhile, the distance of Bromo from Malang is 53 km, which can be reached by 1 hour by private car and 4WD jeep with quite steep paths (some areas are prohibited from using private cars).