Mount Bromo Tour From Probolinggo Port (Cruise Ship Tourists) – This tour package is specifically designed for cruise ship passengers who dock at Probolinggo Harbor and visit Mount Bromo for half day tour. If you want to be more independent in enjoying your tour while docked at Probolinggo Harbor, we as local tour operator in Probolinggo offer private Mount Bromo tour package for cruise ship passengers. The facilities we offer include private transportation during the trip with pick-up and return to Probolinggo port, private jeep tour in Bromo, entrance fees for tours to Bromo, etc.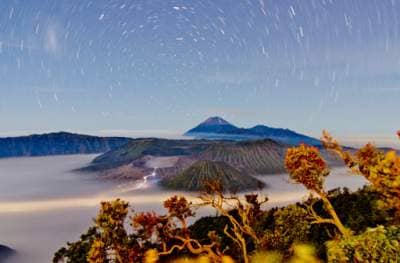 Mount Bromo Tour From Probolinggo Port Cruise Ship
Mount Bromo half day tour package from Probolinggo Harbor for cruise ship passengers. Mount Bromo is one of the best destinations in Probolinggo, with departure from the port of Probolinggo it only takes 1 hour to get to Bromo. Arriving at Bromo, you go straight to the location of the best tourist attractions in Bromo Semeru Tengger National Park including Luhun Poten Temple, Bromo Crater etc. You can also visit Madakaripura Waterfall on the same day after the Bromo tour is over because this waterfall is in the direction of Bromo from Probolinggo.
Itinerary Bromo Half Day Tour from Probolinggo
08.00 am : In the morning after cruise ship docking at probolinggo port, our team will pick you up direct from exit gate. The driver will bring a papper by your name. After meet and greet we will start for mount bromo trip , driving arounf 1,5 hours to reach bromo jeep parking area in Cemara Lawang Village or Sukapura Village. During this trip you will see beauty of nature with terraces of agriculture, the rural landscape, farmers and the rain forest.
10.00 am : Upon arrive at nearest village to Mt Bromo we will change the transportation to Toyota Land Cruiser . Passing seas of sand ,savana , and soft trekking to bromo crater to see bromo volcane and feel the stuning view around mount bromo. During trip to bromo crater you will see Pura Luhur Poten, one of tenggrese hindus temple near mount bromo. After enjoy all the best tourism or mount bromo back to the place when we change from our car to 4WD Jeep tour.
14.30 pm : Upon arrive in Bromo Jeep Terminal our driver will bring you back to Probolinggo City. Continued having lunch at local restourant or probolinggo cullinar.
15.00 pm : Visit Local Market
15.30 pm : Transfer back to Probolinggo Port and Bromo 1 Day Tour from Probolinggo is ended.
The Price Bromo Tour for Cruise Ship Passengers
| Participant | Price |
| --- | --- |
| 1 Person | IDR 1.300.000/pax |
| 2 Person | IDR 1.200.000/pax |
| 3 Person | IDR 1.100.000/pax |
| 4 Person | IDR 1.000.000/pax |
| 5 Person | IDR 900.000/pax |
| 6 Person | IDR 800.000/pax |
Price is included :
Private Car During Trip to Bromo Half Day
Cost for parking,
2 bottle mineral water per person
Rent a Jeep in Bromo
Driver or English Tour Guide (optional)
Price is not included :
Travel insurance,
Horse riding from jeep parking area to Mt Bromo Crater
Cost for optional tour program (Madakaripura Waterfall,etc)
Tipping Gratitude & other personal expenses
A trip to Bromo can also be added to the surrounding destinations if your time permits, for example Madakaripura Waterfall, Jabung Temple, BJPR Mangrove Tourism, Probolinggo City Tour, Gili Ketapang Snorkeling, etc.)
Related Post :