Top 10 Tourist Destinations in Malang You Have to Visit
Top 10 Tourist Destinations in Malang You Have to Visit – Malang is well-known and becomes one of the favorite tourist destinations in East Java because of its cool and fresh weather. Because Malang is located in a mountainous area.
Besides that, Malang also famous for apple fruit, plants that only grow well in cold climates. On one of the favorite destinations in Malang, named Kusuma Agro, you can even pluck apples straight from the tree there. This fruit has become an icon of Malang. Apples can easily find in here. From private grounds belongs to local residents, to the big plantations and agro-tourism.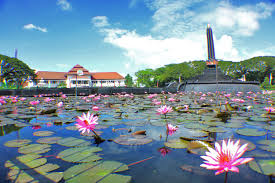 You May Also Like: What Things to do in Surabaya Indonesia?
But Malang is not only about the cold weather and its apples. There are a lot of interesting attractions that Malang offers you. Various tourist destinations in Malang would be very suitable for those who want to go on vacation with the family. These are the summary of the top 10 tourist destinations in Malang you will enjoy the most.
Top 10 Tourist Destinations in Malang
Malang is a city in East Java, Indonesia with its cool lowland climate, and surrounded by many mountains. Cold temperatures and the number of favorite tourist attractions so that this city deserves to be a holiday destination in East Java, Indonesia.
Malang city is usually called apple city Here you will find lots of various natural and modern tourist attractions. See here Top 10 Tourist Destinations in Malang so that this place is worth visiting.
1. Jatim Park 1
Jawa Timur Park 1 (East Java Park 1), or better known as Jatim Park 1 is one of most favorite tourist attraction in Malang among local tourist. This is the place that brought a unique concept where recreation and education become together. Its offering dozens of rides that are ready yo entertain you and your family.
Jatim Park 1 is surrounded by the fresh mountain air. One of signature of this place is a swimming pool with Ken Arok's face relief as its background. The swimming pool is suitable for both adults and children because the depth has been adjusted and separated. In addition, the swimming pool is also equipped with various water slides board.
For education rides, there are Science Stadium which is an outdoor and indoor laboratory. Its containing information and demonstrations from physics, chemistry, biology, to mathematics things. This ride is powered by PLN (National Electricity Company), Telkom (National Communication Company), and several universities in East Java. There are also East Java and Papua Ethnic Gallery that display a collection of traditional house miniature in east Java and Papua, puppets, and many other handicrafts.
Still not enough? Relax.. Jatim Park 1 still has a lot of rides such as Spinning Coaster, Midi Skater, Drop Zone, Mini Jet, Go Carting, Flying Tornado, and also 3D Cinema. Other supporting facilities are the cafeteria, mosque, gazebo, and many more.
Certainly, that makes Jatim Park 1 one of my favorite destinations even among the top 10 tourist destinations in Malang.
2. Jatim Park 2 (Secret Zoo + Fauna Museum)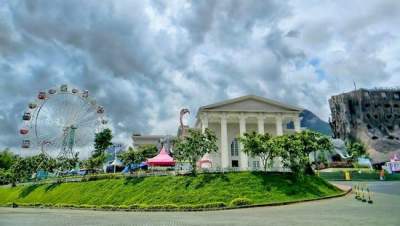 What makes Jatim Park 2 different from Jatim Park 1? If Jatim Park 1 offer integrated tourist attraction for recreational and educational, Jatim Park 2 has a natural concept. Jatim Park 2 is located at Oro-oro Ombo street, Batu. offer two main tourist zones, namely Batu Secret Zoo and Fauna Museum.
Batu Secret Zoo is the only zoo in Indonesia with modern concept. According to the official website of Jatim Park 2, jawatimurpark2.com, you will be explore along these routes that have been provided to circling Batu Secret Zoo. Witness various cute and entertaining animals. There are many places that you can explore from aquarium, tiger land, swimming hippopotamus to grassland or pasture. There is also an artificial river flows you could enjoy, navigating by boat that has been provided.
After satisfied to see cute and entertaining living animals, it's time to enjoy the animals that have been preserved. An unusual and very interesting tours. At Fauna Museum, you can see animals from different continents that are preserved and placed in a location that are resembled the natural habitat. You don't need to worry, the animals are preserved is not the result of hunting activities. But the dead animal naturally and then preserved. There is also replica of giant dinosaur skeleton that become one of the most favorite object of tourists. Additionally, you can also see various types of insects preserved in insectarium. From beatles, grasshoppers, spiders, to various colorful butterflies.
If you're not satisfied to explore this one of top 10 tourist destinations in Malang, dont worry be happy. You can stay at Hotel Pohon Inn, the official lodging in Jatim Park 2. The hotel has a very unique concept. The buiilding is made to resembled a giant tree trunk and surrounded by mountains.
3. Kusuma Agro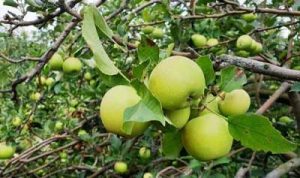 Thisi place is where you will freely choose and picking the famous Malang apples straight from the tree. As one of the favorite tourist attractions in Malang that offers agro-tourism concept, a visit to this place is very positive for both education and knowledge. And of course with enjoyable and memorable travel experience with cool and fresh air.
In Kusuma Agro, you can also learn how to cultivate. This is the reason why this tourism site of Malang is also one of the destination for study tour activities in Malang.
You May Also Like: The Beauty of Mount Bromo
4. Coban Pelangi Waterfall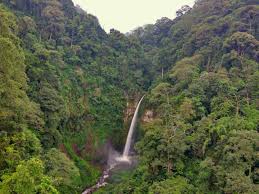 Coban Pelangi Waterfall is one of nature conservation area that under protection of Perhutani (National Forest Company) and approximately 32 km from Malang city. This waterfall is located in mountainous area and to reach the waterfall, you will pass through hilly terrain with slope of 45°. After passing through the hills about 15 minutes, the rest are along the path above the creek.
It require a well and strong physical strength to achieve this waterfall. But during the journey you will not feel a sense of boredom and exhausting, because every step you take, you will see many exotic sights. The natural green forest situation such as cool mountain the chirping of birds, and clear river will leave you an memorable and incredible experience.
Coban Pelangi Waterall flows from a cliff with 30 meter heights. There is a cottage that is prepared as a facility to enjoy the beauty of the waterfalls in Coban Pelangi Waterfall. If you lucky enough, you will see a beautiful refracted rainbow from the tops of the clips. Which became the origin of the naming of this waterfall. Pelangi = Rainbow.
5. Eco Green Park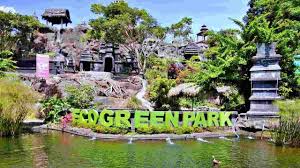 As it names, Eco Green Park is the place for learning green lifestyle in entertaining ways. Yes, it's integrating between maintaining environmental balance education and recreation place. It offers educational recreation park which contains a mini zoo and information on the preservation of the environment.
When entering Eco Green Park area, you will be greeted by a special large elephant sculpture. What makes this elephant sculpture special besides it sizes? It's made from former television. Eco Green Park have many rides disperse along its area. To get around you can rent a bike.
One of favorite rides is Jungle Adventure. You will get around an artificial forest with open train. But not just drive around, you will also invited to catch hunters of wild animals in the forest. You will given a toy guns and you have to shoot every hunter you see. Foresight to see and shooting speed ability is needed here because you have to shoot from running train. Hmmm… pretty exiting, huh?
Upside Down House is no less interesting. Not just like ordinary house, this house has roof down and the floor above. And not only upside down on the outside, but all the furniture inside is also reversed. You will feel like spiderman because you will walk on the roof instead of floor. Because all furniture like light, tables, chairs in upside position.
Eco Green Park still has many other rides to offer such as Geology Science Center, Walking Bird, Animal Farm, Duck Kingdom, World of Parrots, Multimedia DOme, Eco Science Center, Bird Market and also the Insectarium. And last but not least, you can listen to the music produced by the water in a Music Plaza.
6. Batu Night Spectacular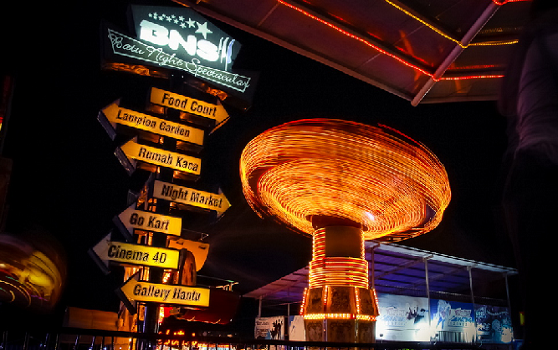 Travelling in the daytime too ordinary for you? Try to come to Batu Night Spectacular or commonly abbreviated with BNS. Tourist attractions in Batu Malang that open from 15.00 until 24.00. This place is claimed as the biggest rides in Malang with complete rides and games. That's why BNS include at the list of top 10 tourist destinations in Malang.
The situation is similar with night market with the carousel with horses. Want more attractiveness? Come closer to the fountain that can dance and change color according to the music being played. Garden lanterns are not less interesting. You can see the lanterns in various colors and shape here. And of course its very pretty when you used it as background of photo. Some of the rides that will make you more fun are Baby Wheel, Gravitron, Avatar, Art Trick, and also Ghost House.
You May Also Like: The Famous and Magnificent Mount Bromo Ijen Blue Fire Tour
7. Coban Rondo Waterfall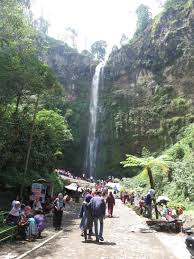 Besides Coban Pelangi Waterfall there also Coban Rondo Waterfall. This waterfalls is located in the middle of a pine forest managed by the Forest Management Unit (FMU) Perum Perhutani Malang. The location is about 25 km from Malang city. Coban Rondo Waterfall is situated at an altitude of 1.135 meters slopes of Mount Kawi, Malang. It has height of 60 meters and the easiest waterfalls to reach.
In Javanese, Rondo means widow. Coban Rondo Waterfall name taken from a fairy tale beginning of the formation of this waterfall. Once upon a time, a beautiful woman named Dewi Anjarwati become a widow. Her husband, Raden Baron Kusuma was killed in the fight against Joko Lelono. Joko Lelono is the youth who are interested in beauty goddess Anjarwati and want to take it from Raden Baron Kusuma. In the battle, Raden Baron Kusuma killed and by panukawan or warrior, goddess Anjarwati hid in the cave near waterfall. Since then this coban or waterfall known as Coban Rondo Waterfall.
8. Sempu Island
Have you heard Sempu Island? Sempu Island is referred as one of the world heaven. The island is located about 75 km from Malang city and has an extraordinary beauty. Natural attractions is a nature which managed by the local government. The vegetation here is quite diverse ranging from coastal forest, tropical forest to mangrove forest. Those are all Sempu Island got? Wait.. The most interesting here is Segara Anakan, which is a lake in the middle of the island with an area of 4 hectares.
Segara Anakan at Sempu Island became the main attraction sites in Malang. Water from the lake comes from the southern ocean waves coming through a hole in the cliff side of the lake. The water in the lake is cold and very clear until you can see the bottom of the lake easily. You are free to swimming, fishing, or just playing in the white ramps here.
To go to this island is not easy. You must go across with motor boat ride from Sendang Biru Beach. Do not save the phone number of the boat operator to picked you up again when you're going back. Once out of the boat, your journey is still not finished. You must be trekking through the forest conservation. Your fatigue will be paid off when you see the beauty of Segara Anakan that still very natural. This island is inhabited, so if you want to stay, the only way is camping with tent.
With all those beauty, no wonder if Sempu Island become one of the top 10 destinations in Malang.
9. Angkut Museum (Transport Museum)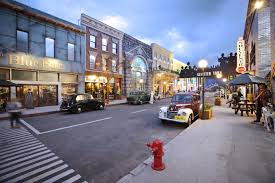 Who says going to the museum is always boring? At Angkut Museum or Transport Museum in English, you can grab any information about history and development of transportation in the world in a fun way. There are large collection of other modes of transportation in this place. Ranging from wagon, bicycle, an electric car, to Formula 1 racing car.
There are 10 zones you can explore in 3.7 hectares of tourist area. Italian zone, French Zone, Las Vegas Zone, English Zone, Germany Zone, Hollywood Zone, Japan Zone, Education Zone, Gangster and Broadway Zone, and of course Batavia Zone. Each zone was made as closely as possible as the original streets from those distinctive landmark. This makes those zones become the most favorite place to take picture. Its like you already have to go to that place. In fact, you just go to its replica. Being around, don't forget to enjoy the culinary Floating Market thatr serves you delicious dishes.
10. Paragliding
Malang also has another exciting place that is very interesting is Malang paragliding tour. Malang Paragliding provides facilities that support and encourage adrenaline. Malang Paragliding is located at "Mount Banyak" with a height of about 1,326 meters above sea level.
At this location, you can drift while enjoying the natural beauty of the air. Enchanting views of the mountain ranges and city landscapes that can be enjoyed are so beautiful and enchanting.
Omah Kayu (Tree House) is one of the famous tourist attractions that can be visited. Omah Kayu is one of the tourist places that is often used as a place of photos that are very instagramable. In the same location you can also see the beauty of the sky garden attractions.
Related Post :
(New) Tourist Destinations in Malang You Have to Visit
In addition to the list of the best tourist attractions in Malang as written above, currently there are many new tourist destinations in Malang that can be visited.
The newest tourist attractions in Malang are generally themed on natural and modern tourism, for example Flora San Terra De Lafonte in Pujon Batu Malang is a popular destination featuring colorful flower gardens, cultural-themed areas & children's playgrounds.
Ohers new tourist attractions in Malang are Jatimpark 3 (Dino Park) with the theme of modern tourism and technology which is packaged in a theme park education of ancient animal life (dinosaurs) and many others.