The Natural Beauty of Mount Bromo. Mount Bromo Tourism is one of the favorite destinations in East Java in Indonesia. Has a height of 2,392 meters above sea level. Mount Bromo is an active volcano surrounded by a sea of sand covering an area of 10 square kilometers. With the temperature at the top of Mount Bromo in the morning can reach 2 to 20 degrees Celsius.
Mount Bromo is located between the District Pasuruan, Probolinggo. Lumajang and Malang in East Java. Mount Bromo mesh body shape between valleys and canyons with a caldera or Lautan Pasir ( a sea of sand) covering approximately 10 km2. The main access path more easy is Cemoro Lawang village at the northeast edge of the caldera, but there is also a way of Ngadas (southwest) and Tosari (northwest).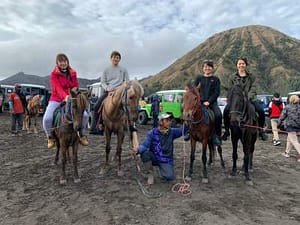 The Natural Beauty of Mount Bromo
Landscape of Mount Bromo is a barren volcanic peak, gravel plains and the sea sand. The park also includes a vast area that is very lush and green with a stream of high peaks. Medium altitude forest clad with thinner prior to the barren plains and peaks.
In parts of the Mount Bromo nasional park's most interesting flora and fauna for visitors is limited and the lack of vegetation. At low altitude out of the sand sea lush green valleys although there is a flora typical of tropical forests. High altitude before the end of the line of trees mostly covered with pine forests.
By far the most common activity in the park is to visit Mount Bromo, located in the moonscape, the caldera is known as the Laut Pasir (Sand Sea). The view was photographed a lot of steaming Mount Bromo is surrounded by Sand Sea, Mount Batok and Mount Semeru as the mighty southern background.
The Natural Beauty Mount Bromo is famous with its magnificent view of sunrise. So if you will visit this place, don't miss this rare opportunity. Tell the Surabaya bromo tour agent that you want to watch the sunrise. The next day around 3 AM, you will be woken up in preparation for a climb to mount bromo.
The Famous and Magnificent Mount Bromo Sunrise
Witness the famous and luxurious Mount Bromo sunrise together with your own eyes is that the reason why Mount Bromo admired by many of us together of the tourist destinations in East Java favorite. Among lovers of mountain tourism, it's one included within the list of the must-visit. As the sun slowly rise, things are going to be very quiet and therefore the only sound is camera shots of tourists.
There are two best places that comfortable and nice to enjoy seeing Mount Bromo sunrise, penanjakan 1 and penanjakan 2. But many tourists prefer penanjakan 1 because there's the very best peak to observe Mount Bromo sunrise.
As for penanjakan 2 is an alternate to ascertain the sunrise when penanjakan 1 closed or there's an occasion that doesn't allow to public, like when the arrival guest of government. But lately the government has begun to renovate and build all facilities of penanjakan 2 in order that it are often used as a priority for the tourists who come to watch Mount Bromo Sunrise.
Peak of penanjakan 1 may be a very strategic place to urge a panoramic and exotic view of tourism area of Mount Bromo. Because the height that reaches 2.770 meters above se level or higher than Mount Bromo which has an altitude of 2.329 meters above sea level.
From here, you'll see the panoramic Mount Bromo sunrise. It including Mount Batok and Mount Semeru as background. In other words, you'll watch the sunrise with a bonus scene you'll never get anywhere else. In addition you'll also enjoy the views of the exotic sea of sand that's between the three mountains.
To watch the sunrise, you ought to have already reached penanjakan 1 a minimum of at 4 AM. So you'll a minimum of find for a strategic place so as to urge this special moment. Because this place are going to be crowded by visitors, especially on holidays or weekend. The visitors not only domestic tourists but also many foreign tourists who want to ascertain "The Famous and luxurious Mount Bromo Sunrise".
Like we told you before, that to witness Mount Bromo sunrise, you've got to received penanjakan 1 a minimum of at 4 AM. It's not an easy matter. Because to succeed in this place within the early hours with a steep road that you simply must undergo vast sea of sand within the middle of the night, But we guarantee you that it'll be pay off.
Arriving at the penanjakan 1, you don't need to worry. Even in the dark there are many stalls that provide food and warm drinks, there also are various signature item as souvenir.
The Mount Bromo sunrise moment didn't last long. Because of that, DON'T BE LATE! Seriously. Or you'll regret it !!
After the sun rising, you can also watch "The Sea of Sand" cluster around Mount Bromo and mountains nearby. So amazing, vast and seas grew so exotic when it covered with white clouds that spread in some parts, as if you were above the clouds.
Other Site of Mount Bromo which will Amaze You
Mount Bromo is worldly famous due to its amazing and luxurious sunrise. But not only that. Mount Bromo is amazingly attractive because the sunrise isn't only the attraction which will amaze you. it's several sites which will make your journey here, become the unforgettable one.
1. The ocean Of Sand ( The Whispering Sand )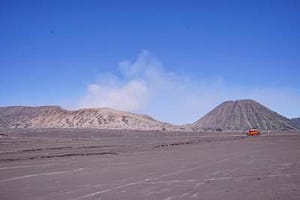 After enjoying sunrise panoramic picture of Mount Bromo, you'll feel the feeling straight down 'The Sea of Sand'. the ocean of Sand is an Ocean of sand which is above the altitude. It stretched 10 kilometers and located shortly from the steps to the crater of Mount Bromo. Locals ask it as Segara Wedi. The Whispering Sand name itself is because this place was once the situation of filming the film with exactly same name. additionally , when the wind blows, the sand are going to be blown and making a sound sort of a voice like whisper.
To be ready to enjoy the sweetness of this Whispering Sand, you'll walk down the sand grains or by renting a horse that has been prepared about the situation . don't forget to wear a mask covering your mouth and wide glasses. this is often because the wind blown sand fly can disturb you.
To come here it's recommended to use a rental vehicle like jeep that provided by Bromo tour management. Because the contour of the sand are going to be very tricky to folks that not get wont to it. But if you rental a jeep with local driver, who has the talents and knowledge , your safety is more assured.
2. Bromo Crater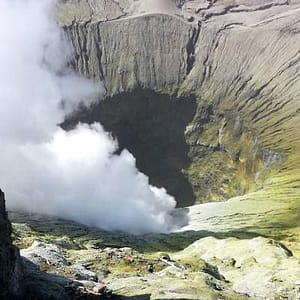 After get through the ocean of sand, you'll staightly attend the Mount Bromo Crater. to succeed in the crater, you've got to climb up to approximately 250 pieces of stairs. If this sounds exhausting, you'll rent the horse provided by the residents around. additionally , don't forget to wear extra masker because sometimes the crater smoke so thick that cause you to hard to breathe. And also bring enough water to drink, because trust me, it'll be hell of journey
If you've got received the summit of Mount Bromo, you'll see the crater, an enthralling sight. once you arrived, the struggling effort to succeed in it'll be pay off. Because you'll see the masterpiece of God that's so remarkable. The Mount Bromo Crater has diameter about 800 meters long from north to south and 600 meters from west to east.
For now, the crater of Mount Bromo looks increasingly steep and deep. And protective fence also has been tons of injury . So you ought to very careful when standing there, especially within the very narrow range that only two meters. With the content of sulfur within the crater, not surprisingly the smell of sulfur is so sharp when you're standing on the sting .
3. Teletubies Savanna of Mount Bromo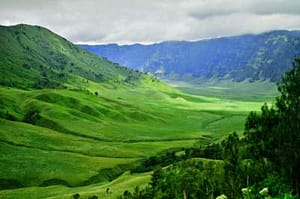 Is a savanna commonly called by the name Teletubies Savanna of Bromo by rows of hills. A natural landscape is ideal , it are often said the Mount features a natural charm which is extremely comprehensive, starting from beautiful sunrise views, the grandeur of Tourism bromo crater, or caldera desert and sea grass meadows contained during this savannah.
Best Tour to Mount Bromo :