Share Tour To Mount Bromo Ijen. You traveling alone and need a tour package at a low price, you should find a travel company that provides tour package to share with other groups to Mt.Bromo and Ijen Crater. Too expensive if you have to pay for your own trip to Mount Bromo and Ijen Crater.
Also Read : Join a Group Tour to Mount Bromo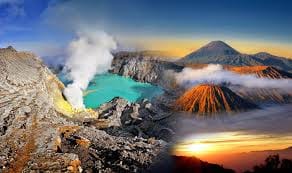 Join tour package with other people to Bromo Ijen can be started from Probolinggo, Malang or Surabaya because the closest access to Mount Bromo is from Probolinggo (1 hour), from Malang (2.5-3 hours) and from Surabaya (3-4 hours) .
Share Tour To Mount Bromo Ijen Crater
Most tourists come to Java for the purpose of Mount Bromo and ijen departs directly from their respective countries to the juanda surabaya international airport, or Yogyakarta to Surabaya, Malang and Probolinggo from the train station or airport. To minimize the budget for travel to Bromo and Ijen they prefer the most convenient way, namely by selecting packages to Mount Bromo and Ijen by sharing with other groups.
surabayabromotour.com besides providing private tour package also serving sharing tour package that can be started directly by pick up from Surabaya, Malang and Probolinggo (station or airport). If from Yogyakarta to Bromo and Ijen and feel that the trip with the car is too long can transit to Malang, Surabaya or Probolinggo by train or plane then book a Bromo Ijen tour package from a local travel company that provides private tour package if the budget is more or select a tour share package if the low budget.
Also Read :
Itinerary Join Group Tour To Bromo Ijen
To take join a group tour to Mount Bromo Ijen, please note first if from the country of origin then the first destination is to go to the international airport in Surabaya after that you can directly join this sharing package program, while the Tour Yogyakarta To Bromo can go to Malang or Surabaya by train or plane or to probolinggo station. Detail Itinerary Mount Bromo Ijen Tour Package join with others people for 3 days 2 nights.
Also Read : How To Go To Bromo From Surabaya – Yogyakarta – Bali
Itinerary Day 01. Surabaya/Malang/Probolinggo – Mt. Bromo
Our team will meet you at the airport,hotel,train station or hotel around Malang or Surabaya or Probolinggo, then transfer to the hotel around Bromo,check in and free program.
Itinerary Day 02. Bromo Sunrise + Crater – Pasir Putih Beach – Bondowoso
 Wake up at 3am. then jeep will pick you up at the hotel. In about 1 hour you will reach Mt. Pananjakan. You will welcome the sunrise from climbing. After the sun rises you cross the sea of sand with a Jeep. After stopping at the jeep area, you can walk or ride a horse to the stairs to climb the last part of the world-famous crater. Enjoy at the top, you experience an active volcano. After that go back to the jeep and head to the hotel, for breakfast and pack luggage.
Check out the hotel and our team will pick you up to be taken to the Pasir Putih beach. You can have lunch and enjoy the beach before heading to the hotel near Ijen. Check in and take a break
Itinerary Day 03.  Ijen Crater Lake – Ketapang Port To Bali
Wake up in the early morning, at around 4:00 a.m. Prepare to be picked up by our team to go to Paltuding. 30-45 minutes drive to Paltuding from the hotel / homestay near ijen, ascent to the top of Mount Ijen for 3 km away ,2 hours of climbing. You can meet sulfur miners while traveling up and down Mount Ijen.
Furthermore, after finishing enjoying the beauty of the Mount Ijen crater lake, return to Paltuding and we will take you to the port of Ketapang Ferry to Bali. Sharing tour is complete.
The Price of Group Tour Bromo Ijen 3 Days 2 Nights

| Join Tour Package To Mt.Bromo Ijen Crater 3Days 2 Nights | The Price Per Person |
| --- | --- |
| Malang Bromo Ijen Drop Off Ketapang Port | Contact Us |
| Surabaya Bromo Ijen Drop Off Ketapang Port | Contact Us |
| Yogyakarta Bromo Ijen Drop Off Ketapang Port | Contact Us |
| Yogyakarta Bromo Ijen Drop Off Ketapang Port (By Train) | Contact Us |
Facilities Join Tour to Bromo Ijen :
The tour package facilities to Bromo and Ijen Crater above are determined by the program that you choose, so for more details about the facilities and the price of mount bromo ijen crater sharing package with others people for 3 days 2 nights please Contact Us