Bromo Ijen Tour Package Price – The cost or budget for the tour to Mount Bromo and Ijen crater the latest in 2019 for foreign tourists from Malaysia, Singapore, Thailand, China and from parts of Europe, so you during the tour in Indonesia do not over the budget.
Mount Bromo and Ijen Crater are the two natural tourism objects in East Java, Indonesia which are most in demand by foreign tourists and the most ideal route is transit through Juanda International Airport Surabaya.
Here the itinerary : Surabaya Bromo Ijen Tour Package 3 Days 2 Nights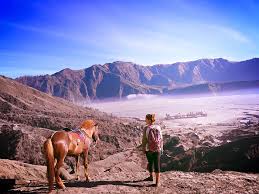 Mount Bromo Ijen Crater Tour Package Price
Information about the Mount Bromo Ijen Crater Tour Package Price below has included with accommodation facilities during the tour. So there is no need to worry for tourists who come to visit with their families and groups to Bromo and Ijen East Java regarding need such as hotels, transportation etc.
The cost of the Bromo ijen tour package from Surabaya that we offer here is a private package so it is not joined by other people. Here are the price of mount bromo ijen crater 3D2N :
| Total Participants | Price Per Person |
| --- | --- |
| 1 Person | IDR 5.325.000 |
| 2 Persons | IDR 2.950.000 |
| 3 Persons | IDR 2.375.000 |
| 4 Persons | IDR 2.050.000 |
| 5 Persons | IDR 1.900.000 |
| 6 Persons | IDR 1.750.000 |
| 7 Persons | IDR 2.000.000 |
| 8 Persons | IDR 1.925.000 |
| 9 Persons | IDR 1.850.000 |
| 10 Persons | IDR 1.750.000 |
Surabaya Bromo Ijen Tour Package Price

Mount Bromo Ijen Tour Package Price list with a trip starts from Surabaya airport, station, hotel and ends back to Surabaya or at the ferry port of Ketapang Banyuwangi to Bali. Please contact surabayabromotour.com  to booking for 3 days 2 nights mount bromo ijen crater blue fire tour package.
Also Read:
Bromo ijen crater package price includes :
– Hotels in Bromo and Ijen includes breakfast
– Entrance ticket for bromo and ijen tours
– Standard private tour transportation
– Gasoline and experienced driver
– Toll and parking
– Jeep at Bromo for sunrise and Bromo crater
– Gas mask rental at ijen
– Local guide ijen
Itinerary Mount Bromo Ijen Crater From Surabaya 3 Days
Day: 01 Surabaya To Mount Bromo
Our staff will pick you up from your hotel in surabaya,train station or airport then drive by an AC vehicle tourist standard to mount bromo tour for about 3-4 hours. After toward and arrival in mount bromo, you will stay at the similar hotel in bromo with view directly to bromo, Batok and Mount Kursi around Tengger
Days :02 Mount Bromo To Ijen Crater
Bromo Tour Package started at 3.30 am the jeep 4WD will bring you to the world's most famous view point at Mount pananjakan on the rim of the Tengger caldera to see sunrise with its young volcanic including Mount Bromo and an active Mount Semeru in the back ground is breathtaking the play light shadow with sunrise reach Mountain succession from the top to the bottom and the usual fog of the caldera. Afterward the adventure be continued to an active Mount Bromo volcano by horse riding. About at 08:00 Finished Mount Bromo Tour Package, the 4 WD will bring you back to the hotel for breakfast, take shower, packing, loading bags, to the vehicle then transfer out to Bondowoso or Banyuwangi where Ijen Crater / Kawah Ijen located. We will drive from Mt. Bromo to Ijen Crater for about 5-6 hours including stop on the way for having lunch at local restaurant. Upon arrival in Hotel, you will stay overnight and take a rest.
Day : 03 Ijen Blue Fire Tour Drop Off Ferry Port To Bali or Surabaya
Around 00:30 in the midnight, Our driver will bring us to the paltuding post and then continue trekking to the slope of Mount Ijen, passing through plantations and rainforest. This is one of the few remaining on the Island of Java with giant ferns, plants & big trees, this journey takes approximately 1 hour from the hotel in Banyuwangi or 45 minutes from hotel in sempol Bondowoso by private car. Arrive at the parking area (Paltuding Post) of Mount Ijen, approximately 1 hour until 1.5 hours will be required to ascend slope of mount Ijen to reach peak of Ijen Crater and along the path, you will enjoy the stunning natural scenery with fresh air & shady. And enjoy best panorama of the ijen blue fire dan lake of sulphate and the sulfur mining workers go down into the crater and climb back up by passing dangerous path on the edge of Ijen Crater with the load as much as 80 kilograms on their shoulders. This is really a dangerous hard job.
After enjoyed the natural scenery at Crater of Ijen and then descend the slope of Mount Ijen until vehicles parking area where our vehicle is waiting for transfer out to Surabaya,Ketapang Harbour or Bali.And after arrival in Surabaya,Ketapang Harbour or Bali the mount bromo ijen crater tour package adventure ended.